Smartphones key for shopping, but still not for buying: study
Nielsen Canada found that even if Canadians aren't buying through their devices as much as they are at the store counter, clean mobile experiences still provide a make-or-break opportunity for retailers.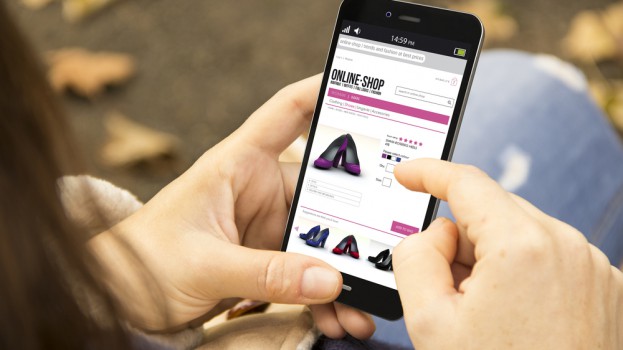 A new study from Nielsen Canada found that mobile devices make great shopping tools for Canadians — just not for the actual purchases.
Mobile devices play a key roll in many points of shoppers' path-to-purchase, including after the actual transaction. However, while 76% of respondents to Nielsen's survey (which was conducted online in the early fall of 2016 to two thousand Canadian adults) make mobile transactions, those transactions still only account for a relatively small portion of overall consumer good sales in Canada: 1.4%.
Still, the study found that even those who don't make an actual purchase on their mobile device are likely to interact with retailers through their phones and tablets, and that clean and easy mobile experiences are more crucial for retailers now than ever.
The study results established what Nielsen deemed an "online-to-store-to-online" process in which Canadians use mobile devices for important steps both before and after purchases.
Top smartphone activities prior to shopping included finding a store location (82%), looking up prices to compare them (69%), conducting online research using a search engine (69%), checking stock status (64%) and visiting a mobile store or app (63%).
Overall, 94% of respondents reported using mobile in some sort of way prior to a purchase to inform the purchase, while 87% use them to somehow assist the purchase. Following the transaction, 36% reported using a mobile device to provide feedback on the experience.
The study determined that mobile-savvy retailers will ultimately gain a leg-up over those that don't consider their mobile experience. "These retailers know that in today's connected world, it's rare for consumers to make a purchase without going online first to do their homework," the report read.
It recommended looking into more targeting and customization to create better experiences, such as custom landing pages and products relevant to individual shoppers' needs based on demographics.
The use of mobile technology as a complement to sales has already been adopted by some Canadian brands, such as Canadian Tire. In 2006, the retailer re-introduced its print catalogue product, now known as the "Wow Guide," as a print/digital hybrid, where users could use the complementary mobile app to look up more product information including reviews, tips and complementing products.
The hesitancy to embrace mobile shopping should come as no surprise. North Americans as a whole aren't nearly as invested in mobile shopping — or mobile as a shopping "companion" — as the rest of the world, according to another recent study from Nielsen.
The global study, first released in November 2016, found that North Americans under-index in all categories of mobile usage related to shopping and in some cases were the least active users of e-commerce-related technology.
According to that Nielsen study, while 53% of mobile respondents globally used their devices to compare pricing information, only 36% of Americans did. Only 36% of North Americans looked up product information with their devices (52% globally). The group also under-indexed in using their phones to look up coupons or deals (32% for North Americans, 44% globally), making better shopping decisions (34% for North Americans, 42% globally) and making shopping trips quicker or more efficient (25% for North Americans, 41% globally).
Image courtesy of Shutterstock