Ann Stewart upped to CEO of Maxus Canada
The long-time agency lead has been promoted following a year of account and award growth.
Maxus Canada's Ann Stewart has been promoted from president to CEO.
Stewart has been with Maxus Canada since 2011, and the promotion is a recognition of the Canadian office's strong performance.
Last year was a "huge" one, according to Stewart, who detailed the year's results when the agency was named as part of strategy and Media in Canada's The List at the end of 2016. The office was named one of the 100 Best Workplaces in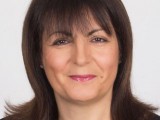 Canada by The Great Place to Work Institute, it saw year-over-year revenue growth of 18% and client wins like Behr Paints, SAIL and Mitsubishi.
The agency's award count for the year was also up, increasing by 90%. Industry nods included winning CASSIES Awards, MIAs and getting two shortlist mentions in Cannes.