Flonase pairs with Weather Network for Canadian launch
The allergy relief spray is embarking on its first Canadian consumer-facing campaign, which will include an integration on the Weather Network's TV and digital properties.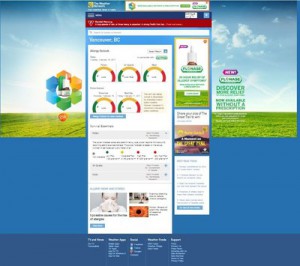 As part of its first major Canadian marketing push, Flonase will soon play a prominent role in the Weather Network's daily reporting.
The allergy symptom relief spray first became available as an over-the-counter pharmaceutical product in the country January 30 (after previously being available by prescription only), and its first consumer-facing campaign launched this month. On top of TV spots, as well as social and online advertising, the brand will be integrated into the Weather Network's digital content as the sponsor of the network's Allergy Outlook.
The Allergy Outlook will appear online and on the Weather Network's mobile app.
The integration has already begun in British Columbia (where seasonal allergies have already started) and will launch in the rest of the country in March, lasting until December of 2017.
Babita Bhattal, director of marketing at parent company GlaxoSmithKline Consumer Healthcare (GSK), told MiC the Canadian integration was modelled after Flonase's partnership with the Weather Channel south of the border. While she didn't have any figures to quantify the success of the partnership with the Weather Channel, she said it came recommended as a priority for Flonase's media plan.
GSK worked with PHD on the campaign. In addition to being part of the first consumer push for Flonase in Canada, the campaign  is also the first branded allergy report for the Weather Network.
Simon Jennings, chief revenue officer for Pelmorex Media, said brand integrations have become more commonplace for the Weather Network, with partners including McDonald's (which provides the coffee for morning weather segments) and Columbia, which provides outerwear for the network's Storm Hunters segments.
He would not share advertising revenue details with MiC but said the network was "very encouraged" by the results of its branded content plays.