Our Homes Media expanding into Toronto
The media company's director of sales and marketing said that its local focus has been the key to growth across its 14 titles.
Our Homes Media Group, which publishes 14 regional magazines about everything to do with homes, is adding Toronto to its roster of cities this spring.
To date, the Collingwood, Ont.-based media company has focused on smaller Ontario markets, like Barrie, the Niagara Region, Waterloo and Southern Georgian Bay.
But Jamie Jefferson, director of sales and marketing, said that his team sees an opportunity for the title to find its niche in the urban market.
The media company's USP comes from targeting homeowners with stories about their own area, said Georgette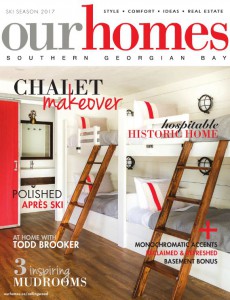 McCulloch, editor-in-chief and director of operations at the media company. "We celebrate life at home," she said. "We allow people to show how they live in their homes. We tell stories about how people picked their homes, how they are living in them. We are interested in the electricians, the plumbers, the local trades. All of the homes we have in the regional magazines are specific to that area."
And with that focus on local homeowners also comes opportunities with regional advertisers who may find the local media option more affordable than larger national titles, Jefferson said.
The Toronto edition of the magazine is set to debut this spring and will be distributed quarterly, with a print run of 50,000 copies. Of those, 25,000 will go to homes with household incomes over $250,000 and the remainder will go to houses with household incomes of a minimum of $150,000. Our Homes Media is working with Toronto-based Prospect Media on the targeted mailing program.
The flagship title of Our Homes Media, which launched in 2006, remains the Southern Georgian Bay edition, which reported double-digit year-over-year growth in 2016. The title just printed its annual ski issue, this year coming in at 140 pages. Our Homes Media has hired Jill Campbell and Anjana Mistry as the Toronto-based account executives selling its newest edition.