Spotted! Northwest Territories goes fishing for tourists
A Willy Wonka-style "golden ticket" giveaway is just part of the territory's tourism board's major marketing efforts during the Canada 150 celebrations.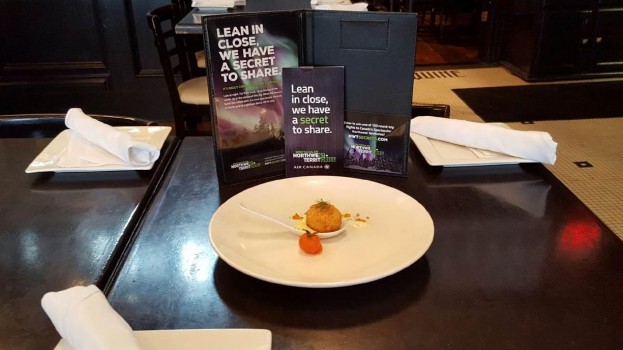 Northwest Territories Tourism wants Canada to see just how special the territory is — and as part of its Canada 150 — themed tourism campaign, it's giving restaurant-goers in Toronto and Vancouver a chance to win round-trip airfare for a trip to the area. It's doing so in a Willy Wonka-esque fashion — but instead of a golden ticket found in a candy bar, the chance to win will come in the form of a whitefish appetizer.
The contest kicked off Feb. 20 in Toronto at Coquine Restaurant, Folly Brewpub, Dimmi Bar & Trattoria and Mirto Italian Restaurant. Randomly selected appetizers — which were free, provided to the restaurants by the Government of Northwest Territories — were given out with envelopes containing instructions on how to redeem the tickets.
Cathie Bolstad, the executive director at Northwest Territories Tourism, told MiC the restaurants were chosen specifically to attract a demographic of people in an income bracket who are likely to travel. Vancouver's participating restaurants will be announced next week. In total, 10 winners were selected in Toronto and another 10 will be selected in Vancouver.
However, the appetizer contest is part of a larger tourism campaign for the Territories, set to last throughout the year.
Bolstad said campaigns to attract travellers are obviously not unusual for NWT Tourism, but this year's campaign spend has been increased due to the country's 150th anniversary. The integrated campaign, titled "150 Secrets," is centered around promoting the "secret" beauties of the Northwest Territories that the rest of Canada may not know yet.
It involves TV spots, print ads in the Globe and Mail, radio ads in Vancouver and Toronto, boosted social media posts on Twitter and Facebook and a Go Train car wrapped in the "Discover our Secrets" logo. NWT Tourism is also a sponsor of the CBC's new factual series True North Calling, which follows the family and work lives of people living in Canada's north. The series premiered Feb. 17.
The media buying and planning was conducted by NWT Tourism's AOR Outcrop, while Eat It Up Media, which specializes in food and restaurant-centered experiential marketing, executed the creative on the appetizer portion of the campaign.
Following the conclusion of the Vancouver appetizer contest, a NWT-branded RV will drive to seven locations across British Columbia to hand out another 10 envelopes containing round-trip tickets (the RV portion was also executed by Eat It Up Media). The Go Train will also be part of the contest, with a limited number of tickets distributed by contest representatives on the Lakeshore Go route from February until April 9.
In total, 150 tickets will be given out as part of the contest, which also has an online entry component. From its launch on Jan. 24 to the last check on Feb. 14, Bolstad said 60,000 entries have been recorded. The time period also saw 160,000 unique visitors to the website, 79% of those being new visitors.