Torstar posts improvements in Q4
Revenues from print advertising and subscribers continue to slide, but the media co ended 2016 with a net income rather than a loss.
Despite continuing drops in its print ad revenue and subscriber numbers, Torstar ended 2016 with a net income rather than a loss.
According to the company's Q4 results, Torstar closed 2016 with a net income from continuing operations of $0.7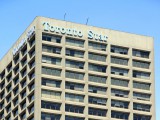 million. That's compared with a net loss of $233.4 million at the end of 2015.
It also closed out 2016 with an operating profit of $10.3 million, which is up $217.4 million from the fourth quarter of 2015.
Segmented adjusted EBITDA at Star Media Group was up $5.5 million in Q4, while Metroland Media Group dropped $1.5 million.
Overall revenue at the company was down 12% to $188.4 million. Print ad revenue at the company continues to slide, as it has across the industry. At Torstar, print revenue dropped 13% in the fourth quarter of 2016 and subscriber revenue was down 7.1%.
During Wednesday morning's conference call, David Holland, president and CEO of Torstar, as well as acting publisher of the Toronto Star, said the company expects to spend between $2 million and $4 million on its tablet app, Star Touch, in 2017. That's down from an investment of $11 million in 2016.
Built in partnership with the makers of the popular La Presse+ app, Star Touch hasn't seen the same success, which Holland acknowledged on the call.
"At least I can say we tried," he said. "I don't regret trying something that could have had a very positive impact in terms of the outlook for the newspaper."
Holland, who announced his retirement in mid-2016, will be leaving the company at the end of this week. His replacement will be announced "very soon," according to the company's Q4 release.
Image: Shutterstock