Quebecor brings new ad options with Tuango partnership
The media company will now allow clients to pay for advertising through goods sold on the Quebec-owned e-commerce platform.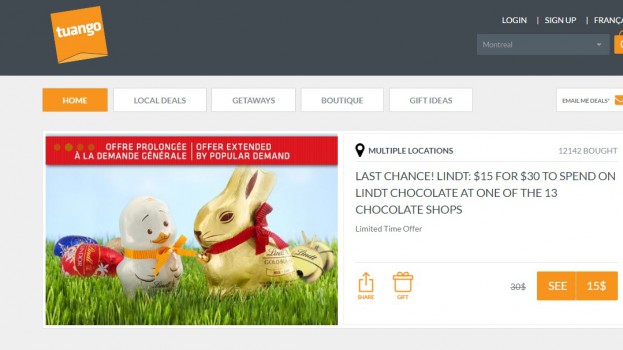 Quebecor Media Group has joined forces with Quebec-owned e-commerce and promotional network Tuango.
As part of the agreement, advertising clients will be able to play for ad placements on any of Quebecor's media inventory with goods and services being sold on Tuango. The model is similar to that of Quebec upstart Boutique Voir, which has launched similar e-commerce services for V Media and Now Magazine.
Through the new business model, consumers can purchase redeemable offers, rebates, cash cards and other goods and services on Tuango, which will go directly toward paying for advertising on Quebecor's media inventory.
Donald Lizotte, EVP of advertising networks for Quebecor Media Group, said the business model will help Quebecor offer existing customers new opportunities while reaching a new client base who may not be in a position to purchase a full campaign across Quebecor's network.
"We have found that some clients are not always able to participate, whether because they are too early in their life cycle, or they may have been too risk-adverse," Lizotte told MiC.
He said the partnership is "win-win-win" for the Quebecor, the advertising client and Tuango. "The advertiser wins because they have a new consumer going to their business," he said. "And Tuango will attract even more major clients through the partnership."
Lizotte said revenue split will vary depending on the advertiser, cost of the product and campaign details.
Tuango currently boasts 1.3 million registered users, sees two million unique visits per month and one million transactions per year.
The first joint campaign launched as part of the agreement will be with eye care company Iris, which will roll out a Tuango offer on March 27 along with an original advertising campaign on Quebecor properties.
In Quebecor's Q3 financial report for 2016, revenues were up slightly year-over-year ($998 million up from $974 million), with $896 million of that revenue coming from services rendered and $101 million from products sold. Quebecor also recently shed 220 positions, about 8% of its workforce, shuttering magazines CHEZ SOI and Tellement bon.
Lizotte would not offer specifics to Quebecor's advertising revenue, only stating that it "varies by platform."