Spotted! Audi jumps into the ski cross spotlight
The luxury automaker put one of its vehicles front-and-centre in the final event of the FIS-Ski Cross World Cup's Canadian finals, with athletes challenged to clear an Audi R8 on skis.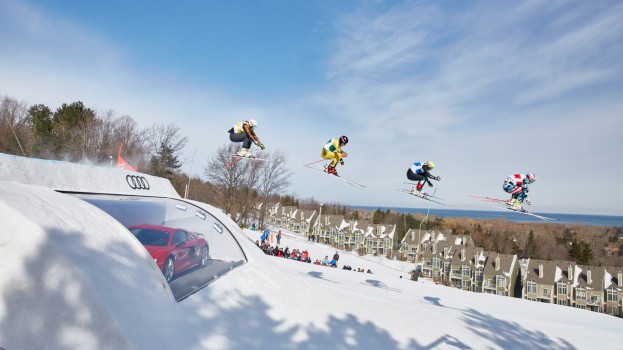 In 1965, Robert "Evel" Knievel cleared a 40-foot box of snakes and two lions on his Honda 305cc Scrambler. 1977, Arthur "Fonzie" Fonzarelli jumped over a shark on his water-skis. In 1990, Homer Simpson tried (and failed) to jump the Springfield Gorge on his son's skateboard.
The world's fascination with extreme sports and high-concept jumps dates back to the early days of trapeze in the 1800s and still holds strong — and last weekend, Audi Canada got in on the action. The automaker has been a global title sponsor of the SIF-Ski Cross World Cup since 2011, but this year it became fully immersed in the partnership when it unveiled a one-of-a-kind special jump for the final run of the World Cup's Canadian finals in Collingwood, Ont. on March 5. Participants were challenged with clearing a massive snow globe with an Audi R8 inside.
Christian Schueller, director of marketing and digital innovation with Audi Canada, said it's not uncommon to see major sponsors displaying their vehicles at the bottom of the ski hill or logos peppered throughout the event. However, to his knowledge, there has yet to be an event that challenged athletes with clearing the actual car.
Getting involved with ski cross was an opportunity to associate Audi with something young, fresh and different, while still sticking to the brand-friendly territory of the competitive ski circuit as a whole., he said. "Ski cross is very different from typical alpine ski," Schueller told MiC. "It's a very exciting thing because it's not just one skier going down the run at a time, there are a lot of cool jumps, and we found it pretty attractive for our young target group. We basically thought, 'How can we keep with the ski theme, but still make it young and fresh?'"
According to Schueller, Audi has just over 16% of the Canadian market share in the premium segment, up slightly from 15.6% in 2016. In the overall automotive market, it sits at 2%.
Audi Canada did not engage any media buying agencies to promote the integration, however it was teased on social media prior to the event on the Facebook pages for Blue Mountain, Audi Canada, FIS-Ski and Alpine Canada. The activation was conceived by experiential agency XMC, and the global partnership with FIS-Ski was conducted through Austrian agency HornMedia.
Canadians Marielle Thompson and Brady Leman placed first in the women and men's events, respectively, at last weekend's event.