Fashion and L'Oreal Paris create flip book cover
The magazine's April issue features five perforated covers that can be changed to create up to 35 looks on model Coco Rocha.
Fashion magazine's April issue has landed with a cover flip book sponsored by L'Oreal Paris, featuring five different beauty looks on model Coco Rocha. Similar to a children's flip book, each of the covers are perforated into three pieces and can be rearranged to form up to 35 unique combinations.
It's part of an effort to better embrace the publication's luxury angle as the title rides out changing consumer and advertiser habits, says Jacqueline Loch, VP and group publisher of the women's group at St. Joseph Media, rather than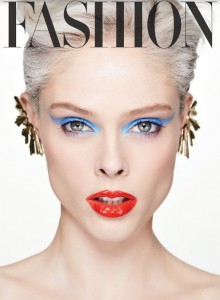 cut back on the magazine's page counts and paper stock.
"From a reader perspective, it's a treasure," said Loch. "It's super high gloss. It's an unusual cover for Fashion because it focuses on beauty and it's a tight shot on Coco Rocha with the first shot."
The cover execution was built in partnership with L'Oreal Paris, using products from the brand as well as one of its top makeup artists, Sir John Barnett, working with Fashion's beauty director Lesa Hannah to create the looks.
Loch said the idea for the customizeable cover came from Fashion's editorial team, with sales approaching L'Oreal Paris and its agency GroupM, to make it happen. L'Oreal Paris' products are also called out in the 10-page fashion and beauty spread inside the issue as well as in a behind-the-scenes video.
Loch said that L'Oreal Paris and GroupM acted fast to get the cover execution off the ground, moving from the pitch in October to going to production in late November.
Though it's the first time Fashion has done a flip book-style cover, it won't be the last, said Loch. There are more planned for this year.