Canadian Young Lions adds a little complexity
How this year's competition brief hopes to help us better compete on the international stage.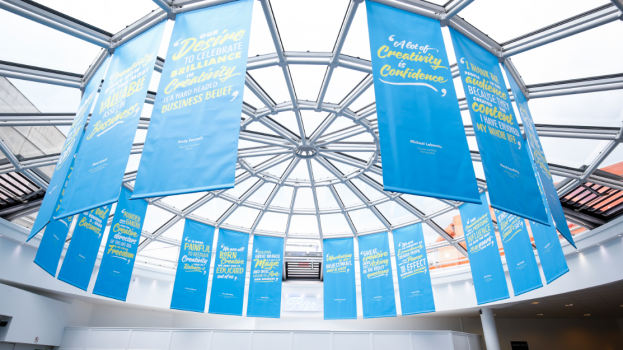 A record number of participants met to take on Canada's Young Lions and Young Marketers competitions, as the industry hopes to see the country excel on the world stage this summer.
The challenge, led by the Globe and Mail in Canada, involves teams of two answering a client brief within a 24- or 48-hour timeframe for a chance to represent Canada at the Young Lions at the International Festival of Creativity in Cannes.
The Canadian competition was held last weekend, with a total of 383 teams registered to compete (up from 359 in 2016 and 287 in 2015), with 118 in Print; 35 in Cyber; 42 in Film; 140 in Media; and 48 in the Marketers category.
This year's briefs were from non-profit brand Samara Canada, a non-partisan research and educational charity that aims to connect citizens with politics. The organization tasked Young Lions competitors with making its message relevant to a younger, tech-savvy audience.
The Young Marketers, meanwhile, were challenged to invent a big idea for the brand, especially during Canada's 150th year.
Like other non-profits, Samara Canada's challenge lies with standing out among all the causes Canadians could support, but its goals of boosting political engagement is particularly timely, given the often divisive climate here and abroad. "Canadians do not trust Members of Parliament or political parties and believe they largely fail to perform their core jobs," the brief said. "Overall, politics is seen as irrelevant and, as a result, Canadians are withdrawing from the democratic system."
This year's client and briefs were chose to match the complexity of last year's Young Lion contest in Cannes for the UN's sustainability program (where Canada brought home Bronze in the Young Marketers competition) to ensure the teams Canada sends are ready to compete on the world stage.
What's more, Canada's 150th birthday meant a special effort to amp up the country's performance in Cannes this year, filling each jury with high profile creative leaders and including an extra jury deliberation stage (the full list of jury members is below).
Finalists in the Media and Marketers categories, as selected by the juries, will have the opportunity to participate in a live judging presentation in April at the Globe and Mail offices in Toronto, which determines the winning team. Winners for this year's competition will be announced at the CMDC Conference April 25.
Each Gold winning team will receive travel, accommodations and delegate passes at the Cannes Lions International Festival of Creativity in June to represent Canada in the global Young Lions and Young Marketers competitions.
Media Jury
Cathy Collier, Chief Executive Officer, OMD Canada (chair)
Sue Alexander-Ash, Managing Director, Business Leadership, Maxus Canada
Hope Bagozzi, Senior Director, Creative Media & Digital, McDonald's
Isabelle Baillargeon, VP, Group Director, Touche Media
Helen Galanis, President, Initiative
Armin Huska, Chief Digital Officer, Mindshare
Brooke Leland, SVP, GM, Cossette Media
Zoryana Loboyko, SVP, Managing Director, PHD Media
Matt Di Paola, Partner, Innovation, Sid Lee
Michele Pauchuk, CEO, MEC
Christine Maw, VP, Head of Strategy, Taxi
Brent Nelsen, Managing Partner, SVP Director of Planning, Leo Burnett
Rick Sanderson, SVP, General Manager, McCann
Ann Stewart, President, Maxus Canada
Alastair Taylor, CEO for Starcom and Mediavest Canada
Young Marketers Jury
Mark Childs, Chief Marketing Officer, Samsung Canada (chair)
Moya Brown, Vice President of Marketing, Campbell's
Aaron Nemoy, Founder & President, Crowdiate
Steve Levy, COO, Ipsos Canada
Andrea Graham, Senior Marketing Executive, Leon's
Ginette Harnois, Vice President of Marketing & Visual Presentation, Pennington's
Susan Irving, Senior Director of Marketing, PepsiCo Canada
Dan Alvo, Director of Marketing, Wrigley
Kathleen Collins, SVP, Integrated Solutions, Cheil
Print Jury
Mary Maddever, SVP, Editorial Director, Brunico Communications (chair)
Carle Coppens, Vice President and Creative Director, Brad
Mike Dubrick, Creative Director, Partner, Rethink Toronto
Sacha Ouimet, Executive Creative Director, kbs
Helen Pak, Chief Creative Officer, Grey Canada
Ryan Spelliscy, CCO, JWT
Christina Yu, EVP, Executive Creative Director, Red Urban
Film and Cyber Jury
Mary Maddever, SVP, Editorial Director, Brunico Communications (chair)
Judy John, CEO and Chief Creative Officer, Leo Burnett
Vicky Morin, Directrice de création adjointe, Cossette
Zak Mroueh, CEO & CCO, ZAK
Randy Stein, Partner, Creative Director, Grip
Angus Tucker, ECD, john st.
Jennifer Varvaresso, Creative Director, lg2