Sico shows its true colours to promote new app
The paint company engaged in its third yearly campaign to promote its selection of paints at Réno-Dépôt, this year incorporating digital and social.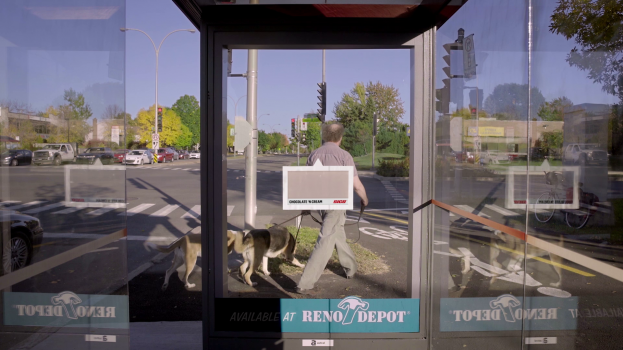 For three years in a row now, paint company Sico has launched a campaign to promote its line of paints sold exclusively at Quebec chain Réno-Dépôt. This year's campaign, which will primarily focus on digital, also includes a new twist on a transit ad.
The mass campaign, which will go to market this week, incorporated a one-day experiential preview stunt in Montreal's Longueuil neighbourhood in late 2016. The brand tapped agency Sid Lee on both creative and media, and partnered with Astral Out of Home to create a special Sico-branded panel on the bus shelter. The panel featured a custom sensor that captured the colours of people, vehicles and anything else that happened to be passing by the outside of the shelter. Those inside the transit shelter saw the colour highlighted with the corresponding shade by Sico.
It's a similar stunt to the one Sico deployed in 2015, again working with Sid Lee and Astral, to promote its line of paints by showcasing the shade corresponding with the colour of the sky. Sico also incorporated an out-of-home experience to last year's campaign, (with PHD on media buying), lighting up a Montreal park in a customer's chosen Sico shade (that campaign also included a print media buy).
Both campaigns were centered around driving sales of the paint at Réno-Dépôt. This year's campaign also added a digital extension to the stunt with a goal to drive consumers Sico and Réno-Dépôt's new mobile application, which also scans colours and finds the corresponding swatch. The app, which was developed by Réno-Dépôt's parent company Rona Inc., was also created to drive sales of the paint.
Alexandra Lafond, media strategist at Sid Lee Media, told MiC the digital component to this campaign was key to driving downloads of the app, and it will feature a link to the application (which is available on iOS and Android) in the video. The video will be distributed socially and on pre-roll and will target middle-aged consumers who are likely to be home-owners. She said KPIs will be measured by video engagements as well as clicks on the download link, and that Sid Lee Media will be repackaging content from the video to create shorter video content, images and memes, which will also be distributed on social.