How Scotiabank's foray into storytelling fared
Details from the brand on Heroes of Hockey Day in Canada.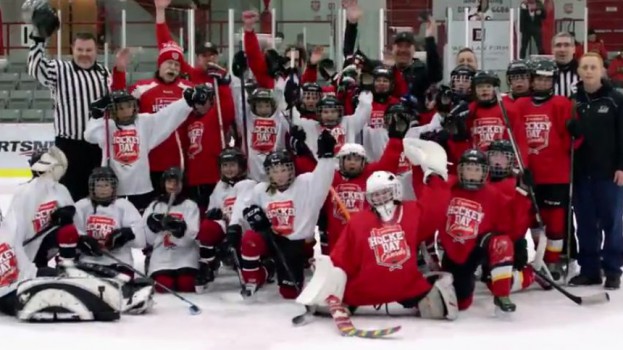 In its ongoing efforts to align its brand with hockey, Scotiabank tried something new last fall – a 20-week-long series of 90-second vignettes that told the stories of three minor hockey leagues across Canada. Now, the results of that program have started to come in.
Called Heroes of Hockey Day in Canada, the series played out each week during Scotiabank Wednesday Night Hockey, with the content also appearing on the financial company's online pages.
Throughout the series, three junior hockey teams and a celebrity mentor competed in sports and community challenges, all vying for a chance to win a trip to the 2017 Scotiabank Hockey Day in Canada. In the end, it was the Calgary Jr. Inferno and their mentor Lanny McDonald that won, traveling to Kenora, Ont. in Feburary.
Media on the campaign was done by PHD, with The Mark Studios conceiving the concept for the campaign, executing production and video editing and working on the media and social media plans.
Initial results suggest the long-form content experiment worked. Online, the completed view rate was 800% higher than Scotiabank's benchmark target. The content reached over two million Canadians online, with that group collectively watching over two million minutes of the program's content for a total of over seven million video views.
Shares and likes of the content also exceeded expectations, beating benchmark numbers by 126% and 148%, respectively.
When considering the idea last year, Clinton Braganza, SVP of Canadian marketing at Scotiabank, was "curious about whether Canadians would be interested in this kind of storytelling. And our data shows that clearly they are." Now, he says, the question becomes about if and how the program should be expanded next year.
Content in the program was refined as the campaign progressed, with the second half of the season being tweaked to use teammates in the opening sequence to draw viewers in quickly and leveraging cues like "seen previously" to remind viewers of the previous week's content. Prior to that change each episode was starting with footage of the mentors rather than the junior teams. That optimized creative generated a 50% lift in completed views per dollar of paid digital media spent, according to results from Scotiabank.
Scotiabank's senior manager of hockey sponsorships Justin Lipton and senior manager Christine Wilby will be at BCON Expo on March 28 to share more insights and results from the program.