Spotted! Kijiji breaks the ice
in order to promote its yearly Second-Hand Economy Index, the online classifieds site encourages passersby to chip away at a block of ice with "frozen assets" of up to $1,000.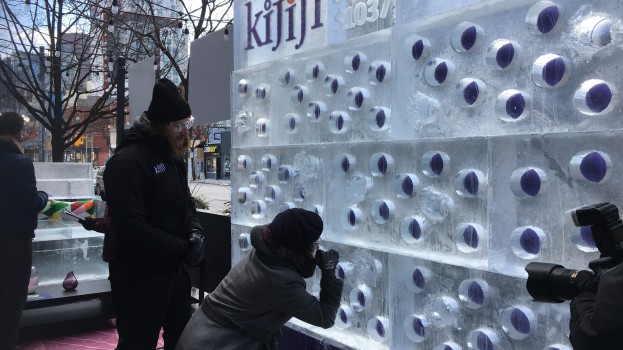 With the temperature once again dipping below the freezing mark in most of Canada this week, it makes sense that Kijiji chose to encase the elements of its latest campaign in a block of ice.
For the past three years, online classifieds site Kijiji has released its Second-Hand Economy Index to look into Canadians' second-hand buying, selling and swapping practices. This year, it decided to drive the message home through experiential activations in downtown Toronto and Calgary. On March 16, people in the downtown cores of the cities were given the opportunity to chisel away at a block of ice to pull out a small plastic ball with a hidden envelope. Each of the two dozen balls hidden in the block of ice had cash prizes inside.
The maximum prize was $1,037, the average amount of money that people get per year when they sell their goods according to this year's Second-Hand Economy Index. Marc Hade, head of strategic marketing with Kijiji told MiC the yearly Second-Hand Economy Index, as well as this activation, are simple ways to drive Canadians to use the site. He pointed out that the average amount earned has gone up significantly over the time that Kijiji has been tracking, up from $883 in 2015. Last year saw a total of 1.9 billion second-hand transactions in the country, up 30.4 million from 2015.
"This is our first time actually doing any kind of activation on this because you could do press, you could do social media, but in the end it's about humans talking to humans," Hade told MiC. "The second-hand economy is something many people participate in without knowing it, so we wanted to communicate that in a really creative and concrete way."
The Kijiji team did not have exact numbers for participants and impressions at press time but said it was in the thousands for both cities. Promotion was done through traditional PR, influencer marketing, boosted social on Facebook, Twitter and Instagram and a regional Snapchat filter. Targeting was based only on geographic location, with Hade adding that the company wanted to go broad in terms of age because while Kijiji is still raising awareness of its Second-Hand Economy Index, it wants to appeal to as diverse an audience as possible. Media buys were executed by Denneboom Media with experiential by Free-For-All Marketing and PR and influencer relations by Veritas.