Anne debut pulls in 815K for CBC
The revamped version targeted multiple generations with a launch campaign that included new uses of Snapchat for the pubcaster.
CBC's new eight-part Anne of Green Gables adaptation, Anne, bowed Sunday to solid ratings for the pubcaster.
The two-hour premiere garnered an overnight average audience of 815,000 (2+), according to Numeris ratings provided by CBC, with nearly 2.1 million Canadians tuning in to at least part of the broadcast.
According to CBC, the series debut had the highest total reach of any CBC premiere in the 2016/2017 season so far. While its overnights didn't quite beat the premiere of Pure, which debuted in January to an average audience of 858,000 (1.8 million total reach), the new series topped the debut of Workin' Moms, which had an average overnight audience of 619,000 (1.2 million total reach), and even the season three premiere of fan- favourite Schitt's Creek, which pulled in an average audience of 781,00 (1.6 million total reach).
Promotions for the show targeted multiple generations, with a plan that included broadcast, print, radio, OOH and digital spots.
Creative was focused on positioning Anne as different from traditional ideas of the character. "It was district and unique," said Dylen Postnikoff, senior manager, marketing communications, TV, CBC. "And more around Anne being a free spirit and whimsical."
"The core goal was to drive awareness and tune in for the premiere," said Postnikoff. "We knew it was an opportunity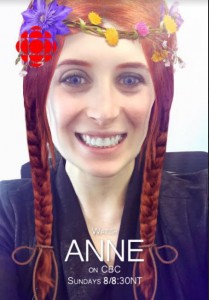 to reach a multi-generational audience. We wanted to introduce audiences to our new Anne, and do that in a different way."
While the CBC marketing team recognized that the show is a period piece, they also wanted to capitalize on themes like bullying and feminism, which are still very relevant today. To that end, the campaign used Snapchat, targeting millennials with Snap Ads, Sponsored Lens and Snapcodes.
The campaign is the first time a Canadian broadcaster has incorporated a Snapchat Lens into a campaign. It allowed users to turn themselves into Anne, adding red braids and a flower crown to their selfie, along with the date and time of the premiere.
"Having it go live on the day of the premiere served as an awareness tactic as well as a tune-in reminder for those who had been exposed to the other ads in market," said Azadeh Chobak, marketing and communications manager, TV, CBC.
The Snapchat Lens will continue on with Snapcodes that will unlock the lens for the next 90 days, with placement in lower-thirds during broadcast and select digital platforms as well as in Metro print ads.
With files from Val Maloney