Facebook unveils new shoppable ad format
Collection, a new mobile-optimized video unit, will lead users to a page of up to 50 items for native shopping on the Facebook app.
Advertisers now have a new way to showcase an inventory of products on Facebook. The social network has introduced a new "collection" ad format, which it says will increase the rate of discovery and purchase on the platform.
The mobile-optimized format will centre around a video ad that, when tapped, takes users to a full-page collection of up to 50 related items still native to the Facebook app. While the Collection unit is shoppable, it will also include an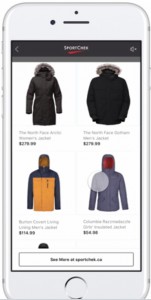 outbound link for users to see more at the advertiser's site.
Facebook will also begin to test new metrics on outbound clicks across all of its full-screen ad units in the coming weeks. In a company blog post announcing Collection, Facebook said those tests will provide a clearer picture of the path to purchase for marketers. It will also measure outbound clicks for marketers with ads that appear on Instagram, which has also begun rolling out its own shoppable ad format (which remains U.S.-only for now).
The Collection format will begin rolling out globally today. One Canadian advertiser already using the ad format is SportChek.
Facebook first began testing shoppable static ads in 2015, while platforms such as YouTube and Amazon have also rolled out their own options.
Despite the growth in shoppable ad units on popular platforms, a recent study by Nielsen Canada found that while smartphones play a key role in driving purchases, there still aren't that many actual transactions happening on them. Purchases made on smartphones only account for 1.4% of consumer goods sold in Canada, according to Nielsen. Instead, the study found that Canadians are more likely to use mobile for researching item and store information, as well as providing feedback after the purchase.