Programmatic delivers, but worries persist: survey
New Canadian research into programmatic buying reveals strong results, but brand safety holds back investment.
New Canadian research suggests marketers and their media agencies are seeing a net benefit to programmatic buying now that companies have deepened their knowledge of the space. However, many still worry about fraud and brand safety when algorithms make media decisions.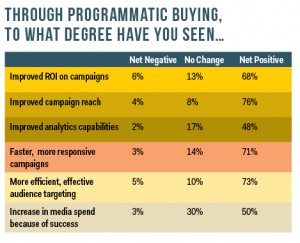 A survey of marketers and agencies conducted by Brunico Communications in partnership with AOL Canada and RK Insights reveals net positive results for those measuring their programmatic buys.
When asked, for example, whether programmatic buying has improved campaign reach, 76% said yes, with 37% specifying "a lot" of positive change. Likewise 73% said they'd seen more efficient and effective audience targeting with their programmatic buys, and 71% saw faster and more responsive ad campaigns.
However, when respondents were asked what obstacles were holding back further spending through programmatic, brand safety topped the list of worries. Nearly half (48%) expressed concern that they were unsure of what websites ads were delivered to. Another 37% agreed "not getting what I'm paying for" was holding investment back.
Brand safety online has become a hot topic in the industry, with major marketers threatening to withhold spending until online media can provide more transparent, provable results. Google is currently under fire because it has been reported that ads for major advertisers managed by its platform were appearing next to hate speech and questionable content.
And while not calling out programmatic buying specifically, Marc Pritchard, chief brand officer at P&G, has threatened to pull all spending from major digital platforms such as Google and Facebook if they can't deliver measurable results through an accredited third party.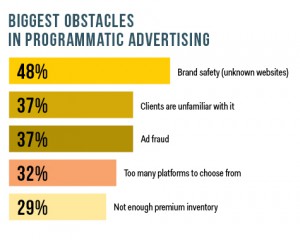 "We will vote with our dollars," Pritchard told Ad Age.
Provable results form the foundation of how brands choose programmatic partners, the study suggests. When asked to select which factors affected partner selection, 83% of marketers who responded to the survey listed "ability to achieve KPIs and prove ROI." Audience reach and quality inventory rounded out the top three responses, leaving aspects such as training and education, costs and ease of platform use further down the list of priorities.
The study was conducted in January 2017 among 157 Canadian marketers and 101 media and digital agency professionals who use programmatic buying as a part of their day-to-day operations.
More findings from Brunico's programmatic research will be available on Strategy's 2017 Programmatic Landscape, available soon at Media In Canada's Resources page.