ICYMI: Buzzfeed drops the NewFronts, Astral launches eighth Carte Blanche competition
In case you missed it: One week after Yahoo's pulling out of the IAB's annual event, Buzzfeed has done the same, and Astral has added a new stipulation to its Carte Blanche competition.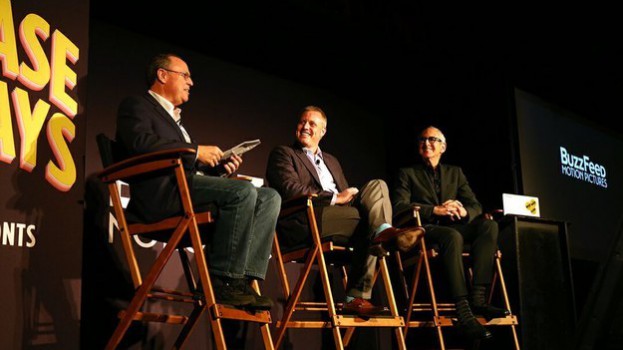 Buzzfeed drops out of IAB NewFronts
Millennial-friendly media co Buzzfeed is the second company in as many weeks to choose to forego the annual IAB Digital Content NewFronts in New York City. Initially scheduled for the lunchtime spot on the opening day, May 1, Buzzfeed is no longer on the schedule and the spot has been filled with youth entertainment company Awesomeness TV. Buzzfeed has not yet released a statement on the matter, however Ad Week reported that Buzzfeed would showcase its potential and offerings to clients at a separate event. Last week, Yahoo announced that it would no longer take part in the NewFronts and would instead host its own series of NewFronts-style presentations in a touring format.
Astral introduces new stipulation to Carte Blanche competition
Bell Media-owned Astral Out of Home has launched its eighth annual Carte Blanche competition, which rewards creative out-of-home advertising with no set brief. The competition awards the top prize to winners from three markets (Quebec, Toronto and western Canada). This year will see a change with all entrants working on the same format: large format digital superboards. Entries must be submitted by April 10, and the winning creative team will get a trip to the International Festival of Creativity in Cannes, as well as a $50,000 OOH campaign for their client.
Twitter adds Periscope API
Twitter has made more updates to its live-streaming Periscope platform, adding an API The API enables third-party applications to authenticate Periscope accounts, configure streams, start and stop broadcasts and publish broadcasts to Twitter. The API is meant to expand upon Twitter's launch of Periscope Producer last fall, which allowed live-streamers a chance to live-stream from cameras besides their smartphones. Twitter says the new API will be easier to use for publishers when planning and shooting live streams. Beta API partners include Telestream (Wirecast camera), Livestream (Mevo camera), Switchboard Cloud (web platform) and Teredek (software).
Instagram reaches one million advertisers
Facebook-owned Instagram announced this week that it has reached one million paying advertisers on the platform, marking an increase of five times from this period last year. According to a company blog post, 80% of Instagram users follow at least one business profile (although business profiles, which are a feature introduced in late 2016, are not exclusive to paying advertisers) and in the last month, 120 million Instagrammers have engaged with the business profile tools, which include visiting websites, receiving directions or contacting the businesses directly. Canadian advertisers that have engaged in Instagram campaigns include furniture maker Article, tourism company Travel Alberta and retailer SportChek.
Pictured: Buzzfeed at NewFronts 2015, image from Buzzfeed