Groupe V adds new media director role
Former Sleeman Breweries marketing manager Sarah Nguyen will help lead marketing efforts for the media co as it braces for an era of change in the TV landscape.
Quebec media company Groupe V Media has added a new marketing director position. Sarah Nguyen, former national marketing manager for Sleeman Breweries, has joined the company to work alongside Guylaine O'Farrell, now general manager of communications and public relations, to manage marketing for the media company.
Dimitri Gourdin, EVP of strategy and communications for Groupe V, told MiC that the new marketing role was developed as O'Farrell's own position at the company broadened and evolved. The company decided to bring a dedicated marketing manager into the mix while O'Farrell focused on his larger marketing and communications role.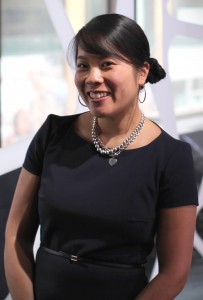 Working on commercial marketing for Groupe V — or any media company — will possess its own unique challenges, said Gourdin.
"Sarah will be charged both with marketing to our viewers and to our advertising clients — very different needs," he said.
He said marketing needs to play a bigger role in the programming aspect of Groupe V, and not just sales. "Marketing as a term or a department is funny to me, because it's like digital," he said. "To me, it's not a division or a department, Everything should be incorporating marketing — how you market yourself to advertisers, how you market yourself to audiences. You need to think of everything through that lens."
While Nguyen's work will include focus on the company's digital offerings and services like Musique Plus, Gourdin added that television in particular is a challenge. "TV is sort of on an island, or in a bubble," he said. "Not just because of the regulations we have to adhere to from the CRTC, and that's fair enough, but with Google and Facebook and all this digital competition from California, our industry is going to have to change so radically. I think our industry will change more over the next five years than it has in the last 50."
That's where marketing comes in, said Gourdin. "We have to be better in every way when we go to market, not only in our shows but in all of our brands."