Facebook introduces its own stories feature
Six months after launching a similar feature on Instagram, Facebook will now bring the 24-hour photo posts to its slightly older user base.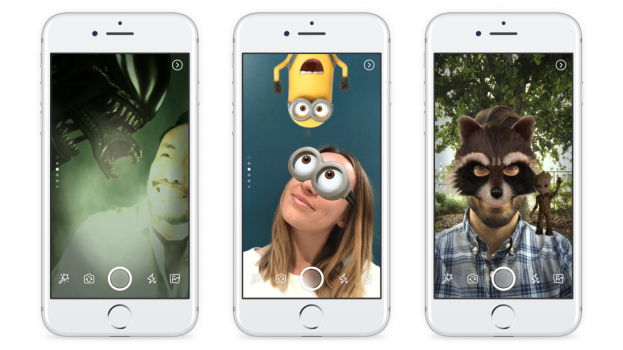 Just six months after rolling out a Snapchat-like Stories addition to Instagram, Facebook has brought the feature to its own mobile app. This launch comes with the addition of an in-app camera (titled Facebook Camera), complete with effects and the option for users to build a public 24-hour "story" and message one another directly through temporary photos.
Sound familiar?
Facebook Camera will be available in the top-left corner of the app for iOS and Android users, complete with custom art filters and "masks." Posts from Facebook Camera can either be messaged directly between users or shared on the home page in an aggregated Stories format.
A Facebook rep told MiC that the product will be marketed toward Facebook users "for now" but the company may explore additional advertising within the feature down the road. It has already paired with select brand partners to create custom masks. Most of the partnered masks were created to promote movies, including Power Rangers, Guardians of the Galaxy Vol. 2 and Despicable Me 3.
When asked by MiC what Facebook looked to gain by having a stories feature on multiple apps, a Facebook spokesperson responded with the following statement: "We've been getting feedback from people on Facebook who have expressed interest in more options to share photos and videos [on Facebook] too… We've added this feature fo WhatsApp, Instagram, Messenger and now Facebook because we've learned that people like to use stories in different contexts."
A December 2016 study by Toronto-based firm Solutions Research Group shows that while Facebook leads the pack of all social platforms in terms of time spent — with the average Canadian respondent spending an average of 50 minutes per day on the platform — Snapchat surpassed both Facebook and Instagram with a higher number of daily sign-ins. Users opened the Snapchat app an average of 9.1 times per day, compared with 7.8 times for Instagram and 7.5 times for Facebook. The study noted that the frequent logging in may have been a testament to Snapchat's 24-hour photo posts, which capitalize on mobile FOMO.
Snapchat also led in terms of numbers of video viewed, with users watching an average of 8.4 videos every time they log in, compared to 6.7 for Instagram and 6.1 for Facebook. However, the videos viewed on Snapchat may be higher because the study counted individual videos (which run a maximum of 10 seconds) within stories as one video.
But what Facebook does have over Snapchat — and Instagram as well — is a sizeable audience of older users. U.S. data from Pew Research Center shows that Facebook's population is far more diverse, age-wise, than Instagram (the survey did not track Snapchat users). While Facebook has the attention of 88% of 18 to 29-year-olds and 84% of 30 to 49-year-olds, Pew also found that 72% of U.S. internet users aged 50 to 64 are on the platform, as well as 62% of users aged 65 and up.
That same research, which was conducted in late 2016, shows that Instagram is slightly more concentrated. A total of 59% of internet users aged 18 to 29 use the platform, as do 33% of 30 to 49-year-olds. The number dips even lower to 18% of 50 to 64-year-olds and 8% of internet users aged 65 and up.
Recent data from eMarketer found that globally, Facebook is expected to continue to dominate digital ad spend, coming in second to only Google over the next three years. For 2016, Facebook (which included Facebook itself, Instagram and Audience Network) claimed an estimated 14.1% of the world's digital ad spend, and the number is predicted to increase to 18.7% by 2019. Despite the massive millennial popularity of Snapchat, it's still only pulling in 0.2% of the world's digital ad dollars, and that number is predicted to rise to 1.1% by 2019.
Snapchat's skyrocketing growth, which thus far has been one of the biggest factors of its success story, may not continue on the same trajectory it has been.