Mitch Dent becomes ad sales lead at Blue Ant Media Solutions
The former Rogers Media VP has moved to the company.
Mitch Dent has been officially named as SVP of Blue Ant Media Solutions, Blue Ant Media's division that partners with brands to create content programs across its platforms.
Dent previously spent over 16 years at Rogers Media, most recently working as VP of client and content solutions until he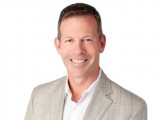 left the company in 2015. He has been working at Blue Ant Media as a part-time consultant in recent months and takes over the full-time role vacated by Ryan Fuss, who left as SVP of media solutions over a year ago.
At Blue Ant Media, Dent will be responsible for overseeing ad sales across the company's brands, which include Cottage Life, T+E and Makeful. He will also be charged with leading the Solution unit's growth, creating branded content for clients on platforms both within and outside the company's owned properties.
Jamie Schouela, EVP of Canadian networks at Blue Ant, said that branded content currently makes up between 30% and 40% of the company's Canadian advertising revenue, and is up about 20% year-over-year.