MKTG Canada launch comes at time of sponsorship growth
Dentsu Aegis Network Canada CEO Annette Warring and MKTG Canada's Brian Cooper on the growing role of sponsorship within media pitches.
There's a new Dentsu Aegis agency in town, sort of. After acquiring S&E Sponsorship late last year, it has now officially rebranded it as MKTG Canada, making it part of its sport and entertainment lifestyle division.
Since the acquisition in late 2016, the MKTG Canada team has signed Adidas, FedEx and Milk2Go as clients.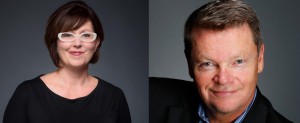 Brian Cooper, CEO, MKTG Canada, has said the acquisition was a smart way to expand the offering he and his team had built. "We knew that we needed to expand our capabilities," he said. "MKTG Canada will be S+E on steroids."
The launch of MKTG in the market comes at a time of growth for sponsorship, said Annette Warring, CEO of Dentsu Aegis Network Canada.
"Too often in past, sports sponsorship has been incremental or outside of the core brand ecosystem," she said. "Given the growth of sponsorship in the fragmented media environment, it's become important to find those connections. That has to be at the forefront in the strategy moving forward. We see a real shift in the role sports sponsorship plays in the overall marketing mix.
"I don't know a media RFP that hasn't included sponsorships and, as an industry, we have lumped everything into that bucket for years. But sponsorship is as big and important as media on its own."
Cooper said growth in the sponsorship space has made standing out more of an issue when planning a partnership program than ever before, and something the MKTG Canada team of 30 will be focusing on in 2017.
"The issues are finding good value at a fair price and owning the space," he said. "It has become more about strategy then buying something."