Campsite opens programmatic OOH exchange
The self-serve platform will allow advertisers to buy and plan location-based advertising campaigns, at a time when the market is ripe with data.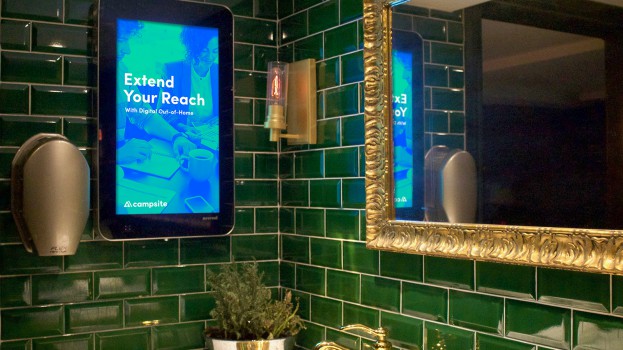 Digital out-of-home ad tech company Campsite has launched its first open exchange for digital out-of-home (DOOH) advertising. The exchange will allow advertisers to bid on and buy outdoor advertising on digital screens in real time.
Campsite has offered programmatic DOOH advertising for just under one year now, but the open exchange allows advertisers and agencies to plan campaigns and bid for space on a self-serve basis.
"I think the development of the technology from vendors over the last two or three years has really opened up the door for this kind of buy," said Edith Gagné, VP of operations at Campsite. She added that the growing variety of metrics attainable by vendors has made this an ideal time to launch an open exchange in the world of DOOH.
"We're at a time now when because of the types of targeting and environmental factors you can incorporate, digital out-of-home inventory is really seen as premium," she said.
Gagné appeared as a panelist at the IAB's recent Business of Digital talk on location-based advertising. At the event, Gagné and others were adamant that programmatic DOOH could become widespread in Canada if advertisers are shown the value of all the data that it comes with.
While open exchanges for desktop and mobile advertising have occasionally been divisive in the industry (agency Group M pulled out of open exchanges in 2014, and the use of open exchanges has been criticized recently when the process results in advertisers appearing on far-right news sites such as Breitbart), Gagné said the beauty in out-of-home advertising is that those context problems don't exist..
"That's why we've positioned this open exchange as a good option," she said. "We want advertisers to know that now is the most relevant time to start executing programmatic buys in digital out-of-home."