Winners named at the 2017 Sponsorship Marketing Awards
MKTG Canada and its CEO Brian Cooper took top honours alongside RBC at last night's show.
RBC and MKTG Canada were among those feted at the 2017 Sponsorship Marketing Awards Wednesdsay night, when the Sponsorship Marketing Council Canada honoured properties, brands, companies that have positively shifted the landscape of sponsorship marketing
Best in Show was awarded to the RBC Training Ground program, which has the company setting up events throughout the country to search for the next generation of Olympic-calibre athletes. The program also won Best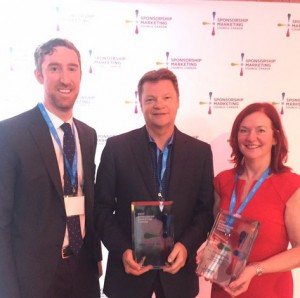 New Initiative.
According to metrics from IMI and Ipsos shared with MiC earlier this year, RBC saw a significant lift with Canadians who viewed Training Ground content during the Olympics. Those who viewed it noted a 60% increase in the belief that RBC supports Canadian athletes, a 36% jump in the statement that RBC "is a trusted company" and a 21% jump in the statement that RBC "is a brand that they relate to."
BMO ended the night with multiple awards, winning for its Walk so Kids Can Talk sponsorship in the Cause category and also for its sponsorship of the NBA All-Star Game 2016 Toronto in the Sports category.
MKTG Canada and its CEO Brian Cooper also took home some of the awards' top honours. The agency, which was acquired by Dentsu Aegis Network and officially rebranded as MKTG from S&E Sponsorship Group earlier this month, won the show's first ever Agency of the Year. According to the criteria, Agency of the Year was awarded based on the overall approach the agency took to bring leadership to the industry in the past year.
Cooper was named to the awards' Hall of Fame, marking the first time an individual has been given that distinction.
Another new award – Property of the Year – went to the Toronto Raptors. It was also awarded based on the property providing leadership in the industry.
Bud Light, Canadian Tire, Scotiabank and Sun Life were among the night's other award winners.
Image (left to right): MKTG Canada COO Matthew Logue, CEO Brian Cooper and SVP Cori Woolley