MiC Roundtable: Keeping clients' trust
In the conclusion of MiC's first roundtable discussion of 2017, attendees dive into trust, transparency and talent.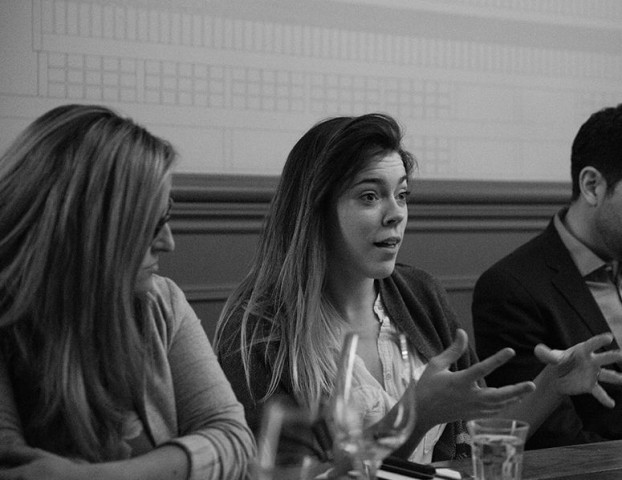 Image: Marissa Mandel-Murray, director of strategy at Maxus Canada and Fauve Doucet, director of strategy at MEC

Media may have earned a bigger seat at the marketer's table, but maintaining that trust may be tougher than it used to be. Some members of our marketing roundtable wonder if being an expert is a bad thing in the post-Trump world. So how do agencies build trust? In the second half of Media in Canada's first roundtable discussion of 2017, our experts discuss transparency, talent and what excites them about the uncertain future of the media business.
Thanks again to attendees Matt Devlin, director of communications planning at PHD; Sean Dixon, group director of marketing science, OMD; Fauve Doucet, director of strategy at MEC;  Marissa Mandel-Murray, director of strategy at Maxus Canada; Juan Panlilio, director of decision sciences at UM; and Kris Davis, SVP, Media Experts.
Earlier, we discussed the need for a broad agency structure that includes a lot of different skill sets. Are you hiring people that already have those skills, or are you training them?
Davis: It's a bit of both. We are hiring people with more analytical business skills coming out of business schools. We tend to bring a lot of people in through the search business, develop their analytical skills and then move them along. But generally, we are looking for people who are curious and adaptable. Because we find that people are in social one week and search the next and then they are in programmatic. So you need to have a flexible environment where they can move around. They recognize that things change from year to year. They want to evolve their careers and we want to give them room to do that.
Mandel-Murray: I was brought on at Maxus at the end of August as a strategy director for the Nestle business on the day-to-day stuff. And in January, my job changed to exactly what you described. I involve the right experts in the room. I say "OK, let me road map things like what programmatic looks like, how we approach influencers and e-commerce." I have to be completely nimble. I know that I'm not the expert in the room, but I need to be able to involve the right people because they understand the tech part of it and I understand the day-to-day business. So even in the past seven to eight months, my role has changed drastically from what I was hired for.
Panlilio: There's this whole notion around the velocity in our industry, that's just a [given], right? Yes, at the start, there is that steeper learning curve because there's so much more that [staff] have to absorb and do today. But when we find those people that get through that learning curve, that initial hump, what they can do in terms of their overall trajectory within the agency becomes so much greater because they have these skills that are so transferable now between all these specialized business units.
What are the positions within your agencies that didn't exist two or three years ago?
Mandel-Murray: We have a full data science team that didn't exist before November, and now there are eight or nine people. We used to hire people that went to school for advertising, but now we're hiring people to sit with and interpret the data. And we have been talking about how we want to refine that. We now want to hire people that solely work in data who also have client skills, because we notice that there is a gap in people who are client-facing but that also understand data.
What else is stressing the industry out?
Devlin: I'll tell you about a funny thing that causes me a bit of anxiety… If you pay any attention to the news, you'll know that there's some global sense that people don't like experts anymore. And I don't know how contagious that is. The sort of Brexit/Trump effect means that clients are less open to hearing quantitative arguments. Does that seem ridiculous to anybody? I feel like I'm getting that sometimes.
Davis: I agree that there is that undercurrent there. But I always say the best research tool is a pair of sneakers. You've got all this data, so just go out and talk to people and see if that backs it up. Standing in line at the grocery store, ask people why they bought something. Strike up a conversation. In one of my earlier jobs, I used to work on beer accounts, and we used to sit in parking lots at Brewer's Retail to see who was coming out with which case of beer. My buddy would go up and ask, "Why'd you buy that?" There's a balance between getting to those little human truths that can then back up all the data you have.
What can agencies do to build and keep trust?
Doucet: When you go to a client and say, "[our idea] did not work." You are taking a risk, but also gaining trust because you aren't manipulating numbers. That's how the relationship is built.
Devlin: Frank discussions on what we can do and what the year looks like so that people are working together makes sense. And on the client side, wherever we can, we are having discussions on how we can build the business together. We aren't your media partners; we are building the business together.
We have talked a lot about challenges. Let's switch gears. What's making you excited about the future of the business?
Doucet: I think that, for juniors especially, the industry now is amazing for them. It's not boring. You learn everything. You feel like they're growing their skill set… There's so many new things for them to learn about.
Devlin: I feel like my job is way more interesting than it was a year ago. I grew up in digital, and it always frustrated me when things were not working the way they should. We weren't thinking about what people actually wanted. It feels like we're making rapid change to being way more focused on business outcomes and what consumers want, what's going to influence consumers as opposed to what we check on TV. It's way more fun to be talking about business impact and connecting with consumers than it is to be talking about buying GRPs 2% cheaper.