Pattison Onestop signs content deal with Global News
Content from the Corus Entertainment company brand is live on signs in major markets across the Onestop network.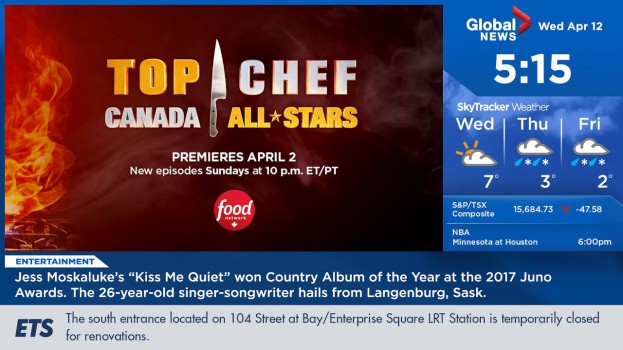 Pattison Onestop has announced a new content partner, signing a deal with Global News as its official provider of local, national and international news across the Onestop office, residential and ETS transit networks.
Global News will be providing breaking news updates, as well as stories in finance, politics and entertainment. Weather updates will be done through the Global News SkyTracker Weather App.
Prior to the new deal, the news and weather content on the Onestop network was provided by the CBC. The new deal with Global News and Corus also includes brand advertising opportunities for Corus Entertainment's properties, said Cam Milne, VP and GM at Pattison Onestop.
The Global News deal is now live in major markets, including Toronto, Vancouver, Calgary, Halifax and Winnipeg. Overall, the Pattison Onestop network of signs will reach 4.3 million impressions every week on 2,510 screens. The content deal doesn't include the TTC in Toronto. The content on those screens is still run in a deal with Bell Media.