Canadian Young Lions winners announced
A total of 10 Canadian media and creative employees, as well as marketers, will travel to Cannes in June to compete among the top from around the globe.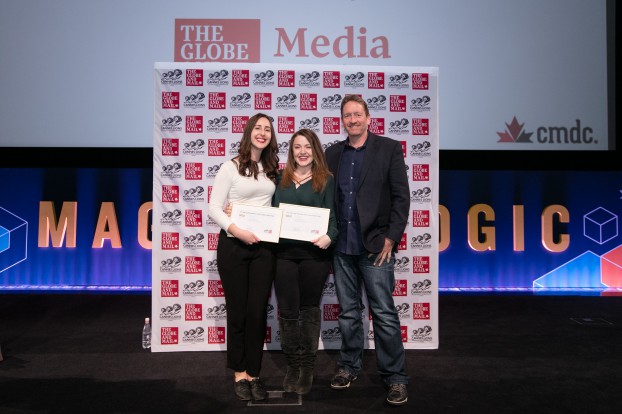 The Globe and Mail has announced the list of Canadian winners for the 2017 Young Lions and Young Marketers.
The Globe announced gold, silver and bronze medalists across five categories (media, print, film, cyber and marketers) at the 2017 CMDC conference in Toronto on Tuesday.
The gold winners have earned a chance to compete on a bigger stage and hobnob with industry executives at the global Young Lions contest, which takes place at the Cannes Lions International Festival of Creativity in June. (The Globe is the festival's official representative in Canada.)
The competition involves teams answering a client brief within a 24- or 48-hour period, depending on the category. This year's competition, which had a record high number of entries, included briefs from non-profit brand Samara Canada, a non-partisan research and educational charity that aims to connect citizens with politics. The organization tasked Young Lions competitors with making its message relevant to a younger, tech-savvy audience.
The Gold-winning idea in Media came from a pair from Media Experts, who created "We GAF" (or "We give a fuck"), a platform aimed at delivering a more one-to-one experience for young Canadians to engage with politics. For example, a chatbot would converse with users about issues like public transit. Touchscreen out-of-home ads would allow users to vote on issues, while data from social sentiment analysis would be used to create other OOH ads placed in front of areas like Toronto's city hall.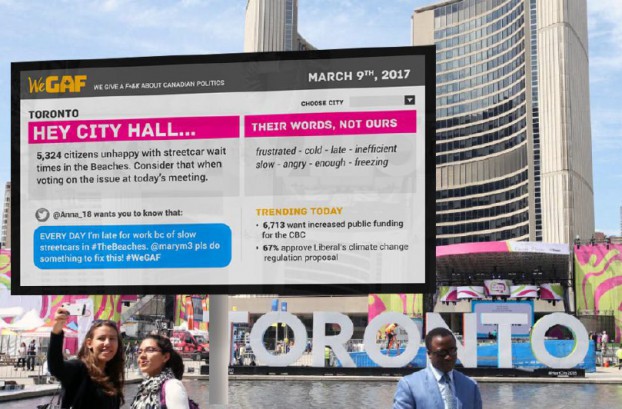 The top idea from the Young Marketer competition came from a team at PepsiCo for its Lay's brand. The "Lay's Wish Chips" campaign would involve a new product launch where every chip in the bag would be a folded "wish chip." In the Gold winning plan, the idea is that Canadians would share social posts with the chips and their wishes for a better country, with the brand responding to each post and directing users to specific organizations. Lay's would also direct $1.50 (in honour of Canada 150) to "@mentioned" organizations. The campaign idea also included a content series of five digital shorts.
In the Film category, the Gold-winning team from Rethink came up with a concept that frames Canadians' day-to-day issues as political issues.
The winning Print category idea, meanwhile, came from a team at Tank and centred on the idea that what's happening with our neighbours can easily cross our border, so political engagement shouldn't be ignored.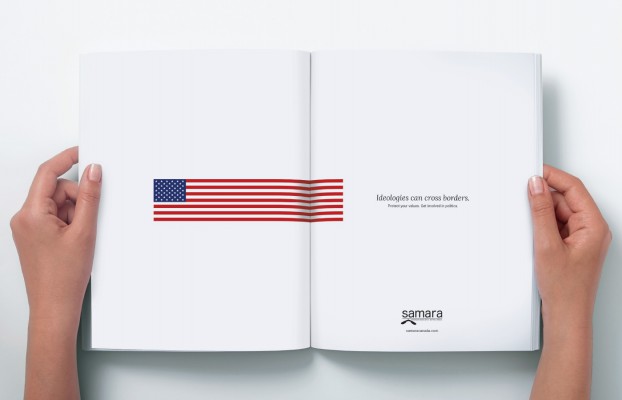 In Cyber, the Gold idea came from a team at Sid Lee, who pitched "The Good Samaratan," a data-driven social platform that would use sentiment analysis to respond to activists in real time.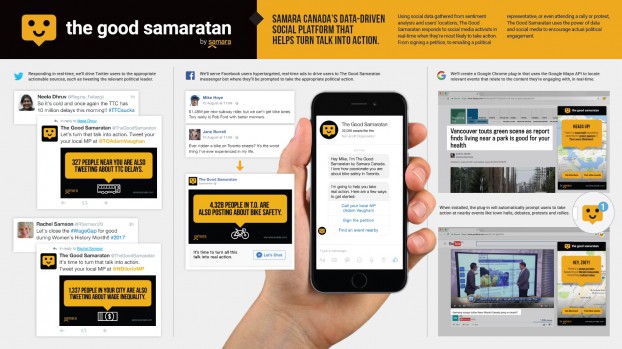 Media
Gold
Elizabeth McPhedran, communications manager, Media Experts
Jessica Burnie, visual communications director, Media Experts
Silver
Russell Cross, senior communications designer, Initiative
Dylan Montcalm, account manager, Adobe (TubeMogul)
Bronze
Brent MacKinnon, digital marketing strategist, Time+Space Media
BeckyAnne Brydon, Deigital Strategist, Time+Space Media
Cyber
Gold
Jordan Gladman, art director, Sid Lee
Alex Boland, senior designer, Sid Lee
Silver
Shane Rodak, copywriter, J. Walter Thompson Canada
Alec Carluen, art director, J. Walter Thompson Canada
(No bronze was awarded in this category)
Print
Gold
Stephanie Bibeau, copywriter, Tank
Étienne Goulet, art director, Tank
Silver
Michael Mehrasa, copywriter, Taxi Canada
Alyssa Jongsma, art director, Taxi Canada
Bronze
Geeta Chopra, freelance strategist/consultant, Geeta  Chopra Consulting
Gina Nasuti, account supervisor, Behaviour Inc.
Film
Gold
Jake Bundock, art director, Rethink
Andrew Chhour, copywriter, Rethink
Silver
Layton Wu, copywriter, DentsuBos
Tyler McKissick, art director, Open. A Creative Company
Bronze
Lorne Heller, copywriter, Juniper Park/TBWA
Justin Luu, art director, Juniper Park/TBWA
Young Marketers
Gold
Michael Alaimo, marketing manager, Gatorade, PepsiCo Beverages Canada
Christian Alaimo, associate marketing manager, Away From Home, PepsiCo Beverages Canada
Silver
Telis Carayannakis, brand manager, Budweiser, Labatt Breweries of Canada
Michael Holmes, senior assistant brand manager, Old Spice, Proctor & Gamble
Bronze
Kevin De Gruijter, assistant brand manager, Bud Light, Labatt Breweries of Canada
Kristina McCaughey, assistant brand manager, Stella Artois, Labatt Breweries of Canada
Pictured: Media Gold winners Elizabeth McPhedran and Jessica Burnie of Media Experts with IPG Mediabrands CEO Harvey Carroll