Spotted! Canadian Tire takes to the skies to reintroduce paint line
After some inactivity in the space the retailer has launched a new paint-focused campaign targeting active families.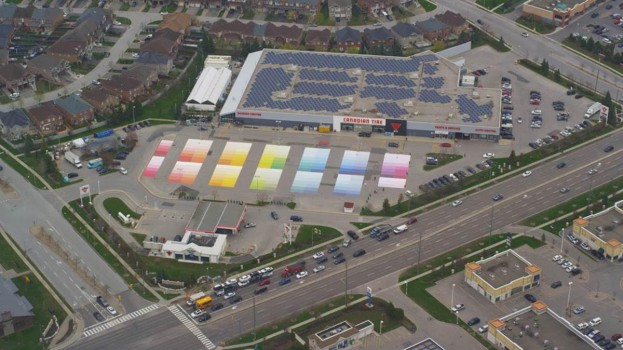 Canadian Tire is re-engaging the paint business in a big way. Literally.
The retailer built a 35,000 square foot "paint swatch" featuring 185 colours that covered most of a parking lot. Each individual colour was 180 square feet, with the entire display really only visible from 1,000 feet in the air.
In order to get the bird's-eye view necessary to see the entire range of colours, the retailer invited media and influencers on a helicopter tour above the swatch to pick a colour, and also get a custom design consultation with celebrity designers Colin McAllister and Justin Ryan. When the passengers landed, they were given enough paint of their chosen colour to cover a room in their home.
The one-day stunt, which was created at a Canadian Tire location in Vaughan, Ont., is part of a larger campaign that also includes a TV spot and digital ads promoting the Premier Paint line. Content from the activation was shared online with the hashtag #PaintWithPremier.
Work on the campaign was done by Touche, Taxi and Weber Shandwick.
Stephanie Nadalin, manager of external communications at Canadian Tire, told MiC that Canadian Tire was at one time a strong player in the paint business, but over time, with "new players in the market" and the retailer's shifting focus to other verticals, that business lapsed. "And now we are back in the game."
She added that the target for the paint line is active families.