Samsung Canada expands Jays partnership to go 360
The tech company is rolling out immersive content starring Kevin Pillar in order to bring fans closer to the action while showcasing its own technology.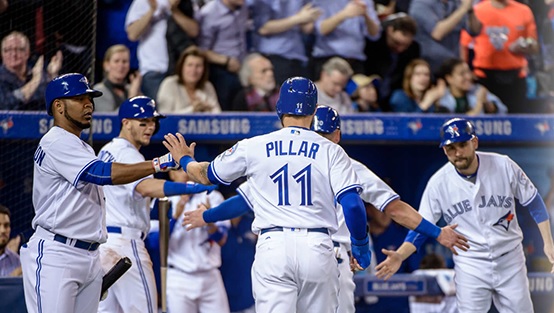 Samsung has signed with the Toronto Blue Jays for another year as a premier sponsor of the team. The tech company has already served as a partner for one year, and will continue to have a presence in-stadium, online, as well as on Sportsnet TV broadcasts.
New this year is a deal with Jays centre fielder Kevin Pillar, who is starring in content including 360-degree videos from the team's spring training. That content will be available on Samsung's VR store over the coming weeks. Samsung Canada CMO Mark Childs, told MiC more content featuring Pillar will come, but it is still in the planning stages.
"The whole idea behind 360 is getting passionate fans closer to the Jays," he said.
Childs would not speak to how much of Samsung's media spend is dedicated to sponsorships, but did say they are an integral piece of the brand's strategy. "We think of sponsorships as an opportunity for full integration," he said. "What makes us unique in the marketplace is we get to prominently integrate and actually use our technology in these activations."
Another new aspect of the 2017 sponsorship — and an example of using the technology in action — is an added Play Under Review feature, which will integrate the Samsung's QLED TV to show fans super slow-mo replays of the games' most divisive moves.  That will be shown in-stadium as well as during game broadcasts.
Childs wouldn't speak to how the partnership had affected Samsung's bottom line.  Samsung worked with Starcom on media integrations for the partnership.