Global adds Canadian thriller to summer lineup
The Corus Entertainment network has also set a May return date for Private Eyes.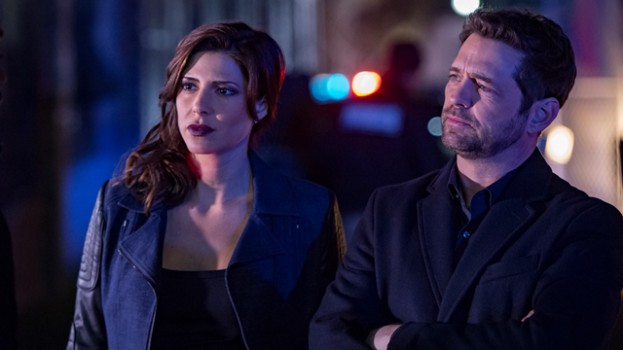 Global has set its summer lineup with ratings hit Private Eyes returning for its second season and Somewhere Between joining the schedule.
The 18-episode second season of Private Eyes, is set to debut Thursday, May 25 at 8 p.m. The first season of the detective drama starring Jason Priestley and Cindy Sampson was a ratings driver for the Corus-owned network. Its first two episodes drew an average audience of 1.4 million (2+).
Season two will add several new cast members, including Samantha Wan (Second Jen), Sharon Lewis (Degrassi: The Next Generation), Bree Williamson (One Life To Live) and Mark Ghanimé (Reign).
Global has also added another Canadian series to its summer lineup. Somewhere Between, a 10-part limited series will premiere July 24 at 10 p.m. The series was greenlit by ABC in the U.S last December. It's also set to air on the U.S. net this summer. The drama follows a successful news producer (Paula Patton, Warcraft) who knows when, where and how her eight-year-old daughter will be killed; she just doesn't know who or why.
Joining these dramas in the lineup are Emerald City, a modern reimagining of The Wizard of Oz, which premieres May 22 at 8 p.m.; suspense drama Salvation, which is currently filming in Toronto and will debut July 12 at 9 p.m.; and season four of The Night Shift, which returns June 22 at 10 p.m.
Global has also lined up a slate of reality programming, including The Wall, which debuts May 8 at 10 p.m.; Spartan: Ultimate Team Challenge, beginning June 12 at 10 p.m.; and ratings juggernaut Big Brother, which returns June 28 at 8 p.m., with new episodes airing Sundays, Wednesday and Thursdays.
Global will also air the four-episode, half-hour Saturday Night Live: Weekend Update special, premiering August 10 at 8 p.m.; The Inspire Awards ceremony on July 1 at 7 p.m. and the Teen Choice Awards, which has no set date.