Touche and Carat take home big wins at Prix Media
The annual award show also introduced a new honour for best media partner.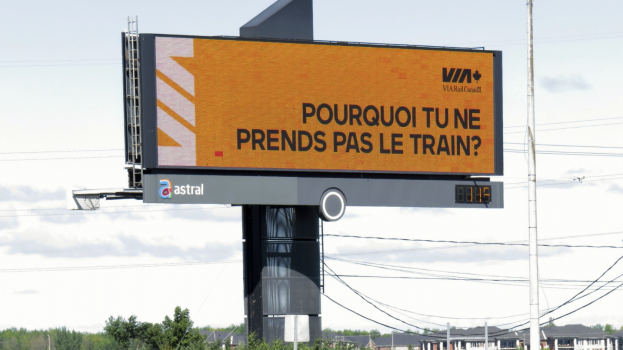 The Quebec Media Council (Conseil des directeurs médias du Québec, or CMDQ) has handed out its Prix Media awards to recognize the most innovative work in media in the province of Quebec.
It was a big year for both Carat and Touché, with the agencies taking home three and five grand prizes respectively. Other grand prizes were awarded to PHD Montreal, Sid Lee Media, Bleublancrouge and Dialekta.
Some advertisers also saw multiple hits — two separate campaigns from SportChek/FGL Sports took home grand prizes, as did two from Via Rail. For SportChek, the brand was hailed for use of digital innovation in a Father's Day campaign that gathered mobile data from shoppers at competing stores and re-targeted them using digital out-of-home faces, as well as best use of video content for its real-time Olympic video strategy. Both campaigns were executed by Touché.
Touché also handled media for Via Rail, which won the grand prize for best use of digital media and data mining for its winter travel campaign, which targeted travellers using digital, display and mobile ads based on weather and traffic data from Waze and MétéoMédia. It also took home the prize in the out-of-home category for its "Why Don't You Take the Train?" campaign, in which the rail carrier target travellers using out-of-home advertising along the 1,500km stretch between Quebec City and Sarnia.
This year's ceremony saw the introduction of Prix Media, the Media Partner of Excellence Award. The award was created to recognize media companies and stakeholders who effectively collaborate with agencies and brands to help orchestrate effective campaigns. The inaugural award was presented to TVA and TVA Sports for their contribution to campaigns for the Heart and Stroke Foundation, Lotto 6/49 and others.
Here are the grand prize winners for each category:
Use of digital media — social/web
Grand prize: Bell Media/Vrak, "Repositioning" by Dialekta
Best use of mobile
Grand prize: GM Cadillac, "Connected Objects" by Carat
Best use of digital media and data mining
Grand prize: Via Rail, "The joy of traveling in winter" by Touché
Best social campaign
Grand prize: The Heart and Stroke Foundation, "Vite" by Carat
Best campaign under $250,000
Grand prize: Kamic, "Welcome Out" by PHD Montreal
Best use of digital innovation
Grand prize: Sport Chek, "View 2.0″ by Touché
Best use of out of home
Grand prize: Via Rail, "Why don't you take the train?" by Touché
Best use of print media
Grand prize: Quebec Milk Producers, "Milk 16," by Touché
Use of search engines
Grand prize: Busbud, "Artificial Intelligence and Complete Automation"
Best use of audio
Grand prize: Sobey's Quebec/IGA, "Pre-veillon" by Carat
Best use of video content
Grand prize: FGL Sports/SportChek, "Speed Record" by Touché
Best use of non-standard/non-media approach
Grand prize: Cadillac Fairview, "Magic Gift Workshop" by Bleublancrouge
Media concept of the year
Loto-Québec, "#tudevraisacheterun649″ ("You should buy a 649″), Sid Lee Media
Media partner excellence award
TVA Sports and TVA