TVA retains SAQ account, revamps its custom title in print and online
The Quebec Crown corporation has consolidated its print titles and enhanced its digital offering to reach a younger audience online.
TVA Publications has revamped the print and digital presence for the Société des alcools du Québec's (SAQ) custom publications.
The redesign comes following the publisher signing a new deal with the Crown corporation (which oversees alcohol sales in Quebec), extending the partnership that has run since 2014. The SAQ has consolidated the two print magazines it had in market – the mass-reaching Tchin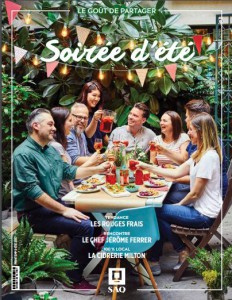 Tchin and the more connoisseur-focused Cellier – and introduced one title in its place.
The new title is Le goût de partager (The Spirit of Sharing), a quarterly print title produced in English and French. It is paired with a website that's being updated on a weekly basis, so despite a reduction in printed content, Karine Charbonneau, director of omnichannel content and strategy, TVA, said there is actually more content being produced under the new banner.
Caroline Gagnon, senior director, media solutions, TVA, said the new title is more focused on being consumer-centric, aiming to inspire readers with recipes, bartender and restaurateur profiles and lifestyle content, whereas the old titles were more product-centric.
Content in the Le goût de partager newsletter is also now linked to the SAQ Inspire loyalty program. Program users are shown personalized content based on their past purchases and visiting behaviour.
Gagnon said the print version of the magazine is targeted at SAQ visitors looking to be inspired, while the website is aiming to reach an even larger group of millennials, connoisseurs and discoverers.
Ads in the magazine are sold directly by SAQ.