Spotted! President's Choice gathers for a feast in Montreal
The brand is doing double-duty with its latest sponsorship, supporting the City of Montreal's 375th anniversary while promoting its "#EatTogether" message.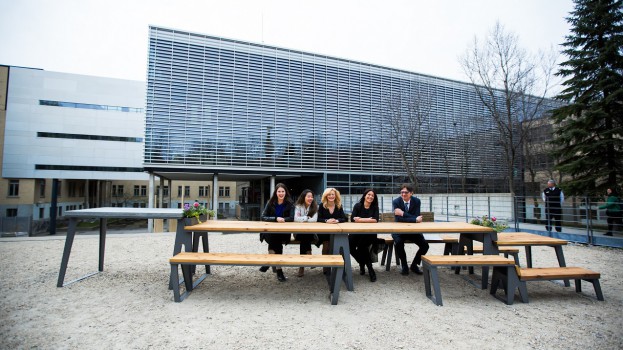 President's Choice is taking its messaging around eating together to the streets — or, at least, to the parks of Montreal.
Two dozen picnic tables have been unveiled throughout the city by the brand — but the tables are anything but traditional. Each of the lengthy tables seats up to 20 people and runs at three different heights. They include spaces for mobility devices, and also spots for people who prefer to eat standing up. The tables, which were designed in partnership with the Université de Montreal's faculty of environmental design, are branded with PC's logo.
The branded tables come on top of an investment of $1.25 million made by PC to the City of Montreal for its 375th anniversary celebrations. On May 10, the picnic tables first went live, with 19 placed in each of Montreal's boroughs and the remaining five occupying some of the city's larger nature parks.
The sponsorship serves double-duty for Loblaw's President's Choice brand, with the tables serving as a (permanent) extension of the brand's ongoing "#EatTogether" campaign. The campaign, loosely tied to the Canada 150 celebrations, debuted early in 2017 with a TV commercial and digital short and (which has gathered 1.5 million views on YouTube and 772,000 on Facebook to date). Since then, the brand has kept the message going on a microsite and is encouraging Canadians to share photos of their meals with the #EatTogether hashtag.
The tables will be promoted as part of La Grande Tournée, an initiative that is part of the city's anniversary celebrations. Each weekend from May 12 to September 17, La Grande Tournée will host a localized festival in a different park around the city. The first festival took place in the Rosemont borough.
Johanne Héroux, senior director of corporate affairs and communications with Loblaw Companies Limited, told MiC the brand may also geo-target Montrealers using Facebook to promote the tables during the Grande Tournée stops.