Spotted! Disney walks the plank at Toronto's Harbourfront
In an effort to promote the upcoming Pirates of the Caribbean installment, Disney is aiming to go viral with a pirate takeover video set in Toronto.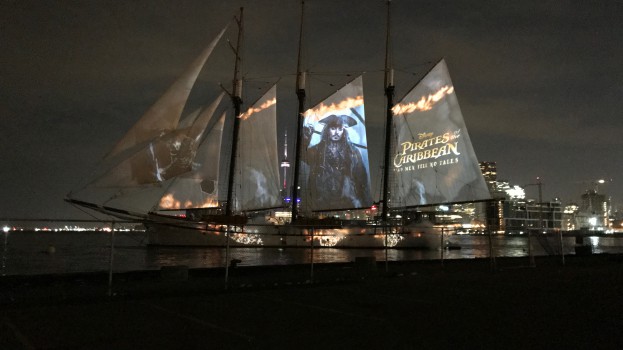 In an effort to build anticipation for its upcoming release, Pirates of the Caribbean: Dead Men Tell No Tales, Walt Disney Studios Canada projected a promo for the movie on an unlikely canvas.
In the early morning hours of May 17, Disney took to Toronto's Harbourfront to stage a "pirate takeover" of one of the city's docked tall ships, the Empire Sandy. Using projection mapping, CGI and existing movie footage, the crew simulated fire, as well as showed parts of the trailer, on the ship's sails.
The team also employed the use of seven smoke machines to add to the effect. While the early morning pirate takeover may have been missed by some, the experience was captured on various cameras on land, in a boat and by drone. The resulting video, posted to Facebook, Twitter and Instagram May 21, has already gathered more than 1.2 million views across platforms in two days. Greg Mason, VP of marketing at Walt Disney Studios Canada told MiC the intention was more to create a viral social video than a purely experiential activation.
But, Mason said, setting the video in Toronto was also key for drumming up buzz north of the border.
"The whole thing about being an entertainment company is that you have to be entertaining," said Mason. "We feel like that extends to our marketing. We're always looking to do something big that's specific to Canada, and the fact that Toronto has this harbourfront available to us allowed us to do this whole 'pirates are taking over' scenario."
Mason said Disney did pay for a small boost to the social videos but kept that specific to a short time-frame in order to garner as much organic reach as possible. There was no target demographic selected beyond Canadians, since Mason said Pirates is more of a mass-appeal franchise.
Speaking to Disney's increased ad spend in Canada over the years, Mason said Disney has invested more in big blockbuster films in the last several years, particularly since its acquisition of Marvel and the Star Wars franchise.
"When I first started at Disney [in 2008] we'd do two to three tent pole pictures per year," said Mason. "Those kind of big, event-driven films that we'd do these massive campaigns for… this year, we have 10 of those films. Naturally, that's going to bring our media spend up."
While much of the spend has been focused on traditional TV, pre-roll, radio and OOH marketing, Disney has also undertaken a number of experiential marketing activations in an effort to promote some of its more recent movies, such as a Beauty and the Beast-themed ball at Casa Loma, a fashionable tea party in downtown Toronto for Alice Through the Looking Glass and a mobile fish tank starring the forgetful fish Dory.
Pirates of the Caribbean: Dead Men Tell No Tales opens May 26.