A closer look at CBC's dramatic slate
Why the pubcaster went dark for its fall schedule, what competition shows will face and how it's changing the narrative for Sundays.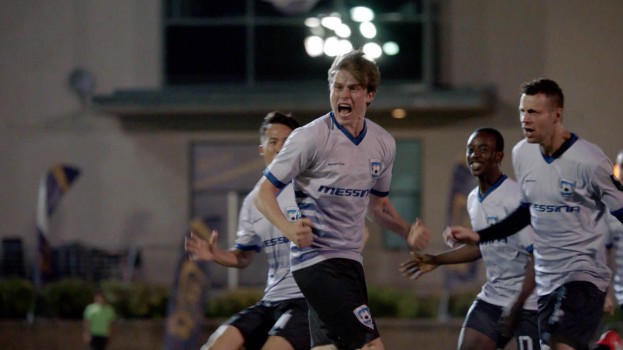 One wouldn't be mistaken to note that the CBC's new fall season, which was officially announced yesterday, looks a little darker than last year's.
Last year saw the rolling out of a number of new comedies such as Kim's Convenience, Workin' Moms and Baroness Von Sketch (all returning for new seasons in the 2017/2018 schedule). CBC's programming GM Sally Catto said bolstering the comedy slate in 2016 was intentional ("Canada has an abundance of comedy, and we wanted to showcase that," she told MiC). While the investment paid off in terms of viewers and accolades, she said this year it was about branching out and aiming for excellence in more serious genres.
She added that the new dramas brought onto the schedule, which also include Frankie Drake Mysteries (by Murdoch Mysteries writers Carol Hay and Michelle Ricci) and sport drama 21 Thunder, were sought out because they had "potential to turn into longer-running dramas." CBC has confirmed that existing dramas Shoot the Messenger and The Romeo Section have been dropped from the schedule after only one and two seasons, respectively.
Catto said from a programming perspective, she had a lot of admiration for Global's Canadian original Mary Kills People and CTV's Cardinal, which she said were unique from other programs on the air and "distinctly Canadian," which the CBC wants to aim for with its own dramas.
The CBC will push forward with its strategy of comedies on Tuesday nights, which Catto said has been working well in terms of ratings (as evidenced by the return of Tuesday night comedies Kim's Convenience in the fall and Workin' Moms in the winter). The challenge, said Catto, then becomes creating a single-night line-up that can focus on a single genre without only capturing a single demo. For example, she said, it's imperative to balance out a series like Workin' Moms, which primarily targets mothers, with new series that might skew more male, such as the boxing-focused dark comedy Little Dog or the Comedy Central co-production Crawford (neither of which have had their time slots confirmed).

While Sundays have traditionally been a family night, Catto said the CBC has made a choice to open up Sundays to its documentary programs. While the long-running family drama Heartland will still fall in the familiar 7 p.m. Sunday slot, the 8 p.m. time slot will now play host to the long-running The Nature of Things (which formerly aired on Thursday nights). The family drama This Life, which announced that it would not return to the airwaves in January 2017, will be replaced at 9 p.m. by season three of point-of-view doc series Firsthand (also moving from Thursday).
But Catto said the shuffling of its docs opens up Thursday nights for more dramatic content, both scripted and unscripted. One long-running program already confirmed to be moving to Thursdays in the fall will be Dragons' Den, formerly on Wednesday nights. This season will see the return of Arlene Dickinson. Also coming to Thursdays will be new unscripted investigative series The Detectives.
Competition on Thursdays is stiff — the 8 p.m. time slot features ratings juggernauts like Big Bang Theory, Grey's Anatomy, while U.S. network NBC recently moved freshman hit This is Us to Thursdays in the 9 p.m. slot. The upcoming Big Bang Theory spin-off focusing on a young Sheldon will also air Thursday nights.

CBC still has a number of programs without confirmed time slots at the moment. Season three of arts and culture show Exhibitionists and new kids' series Addison will premiere at some point in the fall, while new midseason series Burden of Proof, Caught, Crawford, Little Dog, Beat Bugs and Becca's Bunch have not yet had their schedules established. Returning series Schitt's Creek, Workin' Moms and Hello Goodbye also do not have confirmed time slots.
When asked about which demographics the CBC was challenged with reaching, Catto said the network is always looking to reach a younger audience, which she said is not unique from any other network. She added that the CBC has also accepted to some degree that it might not catch the millennials on linear. "That doesn't mean they're not watching on digital," she added. "When you compare the linear audience of Baroness Von Sketch to the digital audience, you can see that the younger people are actually all watching online."
Instead, said Catto, just as much of an emphasis is being placed on retaining its current linear audience.
The following premieres were unveiled at the upfront (new shows bolded):
Summer
Sunday:
7 p.m.: When Calls the Heart — premieres June 18
Monday:
9 p.m.: 21 Thunder — premieres July 31
Tuesday:
8 p.m.: Still Standing — premieres June 27
9 p.m.: Baroness von Sketch Show — premieres June 27
Wednesday:
8 p.m.: The Great British Baking Show — premieres Aug. 23
Friday:
9 p.m.: Taken — premieres June 9
Fall
Weekdays:
2 p.m.: The Goods — premiere date TBA
Monday:
8 p.m.: Murdoch Mysteries — premiere date TBA
9 p.m.: Alias Grace — premieres Sept. 25
9 p.m.: Frankie Drake Mysteries — premiere date TBA (November)
Tuesday:
8 p.m.: Rick Mercer Report — premiere date TBA
8:30 p.m.: This Hour has 22 Minutes — premiere date TBA
9 p.m.: Kim's Convenience — premiere date TBA
9:30 p.m.: Mr. D — premiere date TBA
Wednesday
8 p.m.: The Great Canadian Baking Show — premiere date TBA
9 p.m.: The Durrells — premiere date TBA (September)
9 p.m.: Top of the Lake: China Girl — premiere date TBA (October)
Thursday:
8 p.m.: Dragons' Den — premiere date TBA
9 p.m.: The Detectives — premiere date TBA
Friday:
8 p.m.: Marketplace — premiere date TBA
8:30 p.m.: Interrupt This Program — premiere date TBA (October)
8:30 p.m.: The Stats of Life — premiere date TBA (November)
Sunday:
7 p.m.: Heartland — premiere date TBA
8 p.m.: The Nature of Things — premiere date TBA
9 p.m.: Firsthand — premiere date TBA
Time and premiere date TBA:
Winter
Time and premiere date TBA:
Burden of Proof
Caught
Crawford
Little Dog
Schitt's Creek
Workin' Moms
Hello Goodbye
Beat Bugs
Becca's Bunch
Pictured: 21 Thunder