Elle Canada puts its best face forward with custom makeup collection
The TVA-owned beauty publication has partnered with Lise Waiter Cosmetics to create a custom makeup collection, a first for Canadian beauty magazines.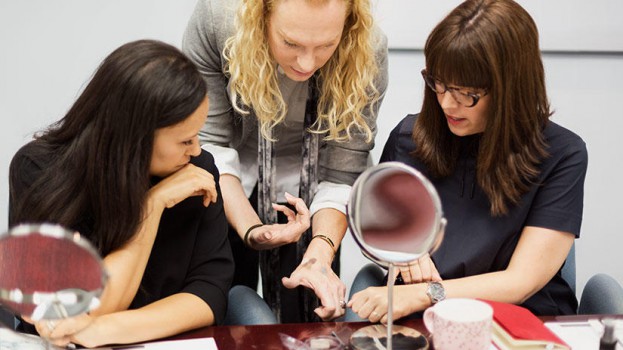 Elle Canada and Elle Quebec have expanded with a custom makeup collection.
The TVA-owned magazine brands have paired with Lise Watier Cosmetics to design a limited edition fall collection of Lisa Watier Cosmetics entitled The Weekender Collection. The collection includes a mascara and eyeliner, an eyeshadow pallet and a lipstick. According to TVA, the partnership is the first of its kind in Canada.
Vanessa Craft (pictured left), editor-in-chief of Elle Canada, told MiC the collection was designed to appeal to as broad of a demographic as possible, not just sticking to Elle Canada's readership (according to its 2015 media kit, Elle Canada's audience has an average age of 36 and an average household income of more than $92,000).
"It's really just targeted at women who love makeup," she said. "It's inspired by the Danish concept of hygge, which we saw emerging as this very cozy, happy, luxurious sense of well-being. It's aimed at feeling relaxed and at ease, which doesn't have a specific demographic."
The collection, which will be available starting in August, will be promoted throughout Elle Canada and Elle Quebec's magazine and digital properties with advertising and custom content.
The payoff for Elle Canada, said Craft, is the magazine's branding on all of the makeup, bringing the magazine to top-of-mind for makeup consumers. "When you use that eyeshadow pallet, you're going to be thinking of Elle."
According to the most recent Vividata topline rankings, Elle Canada had an average print issue audience of 1,420,000 readers, placing it at #16 out of 40 tracked English magazines. It also had an average online audience of 404,000 per month. Elle Quebec had an average of 573,000 readers per issue, making it #13 out of 24 French magazines, and 84,000 average monthly viewers online.