The New Establishment: Brie Reininger
The UM analyst has won the inaugural junior award for her work creating innovative digital plans.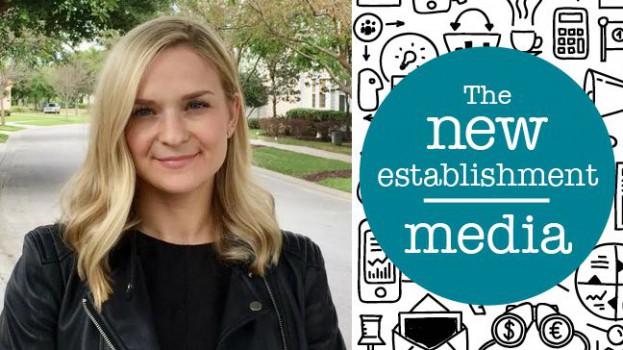 At this year's AToMiC Awards, Media in Canada and strategy introduced a new award program – The New Establishment: Media. It seeks to find the ones to watch in the media industry — the big thinkers, the disruptors and the movers/shakers within the country's media agencies.
The New Establishment: Media awards went to one junior and one mid-level candidate: Brie Reininger, analyst, UM Canada, and Juan Panlilio, UM's director of decision sciences.
Brie Reininger has been at UM Canada for three years – the entirety of her time in the industry – but it's been time enough for her to make an impression.
"On day one I already had her in front of the client and on a bunch of projects," said Juan Panlilio, her manager on the agency's decision sciences team, to which she was recently promoted.
Reininger's ability to cut through tough technical data to give clients relevant, actionable information is a big part of what earned her The New Establishment's inaugural junior award.
She is currently an analyst working with Panlilio (her co-honouree in The New Establishment), but up until this spring she was doing breakout work as a connection planner with clients such as Johnson & Johnson.
For J&J's Lifescan, a medical device for people with diabetes, Reininger built a digital-only plan and worked on optimizations, leading to a 65% drop in cost-per-acquisition in 2016. Using insights from work with Facebook on the brand, she adjusted targeting and leveraged placement optimization to maintain efficiencies.
Her further strategic insights and media recommendations for the Lifespan app resulted in it being the most-downloaded app on Google Play in the medical category.
For Rogaine, another J&J brand that has traditionally avoided intrusive placements, Reininger convinced the client to shift from its traditional placements on medically focused sites like WebMD and start targeting men around their passion points like sports online. What started as a small test group on theScore's app lead to a strategic but uncharacteristically prominent sponsorship on the NHL trading day countdown page. The brand saw a sales increase of 49% post-activation.
Reininger's recent move to the decision sciences team is a rare one for someone in planning, Panlilio said. Not many planners have the mix of skills he is looking to add to his team, but Reininger's ability to turn the technical aspects of the department into a compelling story for clients impressed him.
"You need to know the technical side, but also to be able to build a rapport with people you deal with on a daily basis," he said, which gives her clients a "sense of trust and comfort… There are a lot of analytics that go on in the back end, but clients don't need to see the number vomit. It's a blend of the art and the science. I feel very fortunate to be able to snag her from the planning team."
Want to see who the big winners were at the 2017 AToMiC Awards? Strategy has the winners and big stories from Wednesday night's event.