Upfronts 2017: Six dramas, four comedies join Global schedule
Barbara Williams, EVP and COO at Corus Entertainment, on Global's new content and how conventional TV is finding its footing again.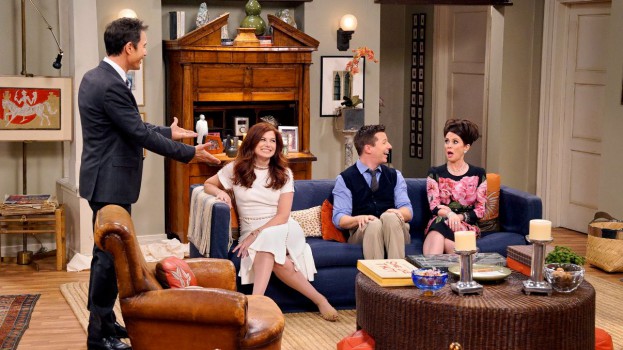 Corus Entertainment has picked up some of fall TV 2017′s familiar faces, with a reboot of S.W.A.T. and the remake of Will & Grace both part of Global TV's new show lineup.
Barbara Williams, EVP and COO at Corus Entertainment, told MiC that part of her team's strategy going to this year's L.A. Screenings was to acquire shows with big brands and big stars, in order to let the media co's conventional channel do what she said the platform does best: appeal to many people at once.
"We went in remembering what conventional does well and why it's successful and play to its strengths," she said. "And that is to…have a little of everything. Not be too serialized, and let some of the more complex storytelling live in specialty where there are plenty of opportunities for it to be successful. To let conventional be that big, broad, populous powerhouse that it has been for so long now."
Williams said conventional television has been in a bit of an "identity crisis" for a couple of years with the rise of more popular content on cable and competing platforms, but she added that she thinks it has now returned to its "roots and its power."
In all, Global TV acquired six dramas and four comedies for the upcoming season.
The new dramas start with SEAL Team, starring David Boreanaz of Bones, airing Wednesdays at 9 p.m. The show follows the professional and personal lives of the elite unit of Navy SEALs as they train, plan and execute missions.
S.W.A.T., inspired by the 1970s TV show, stars Shemar Moore (Criminal Minds) as a S.W.A.T. sergeant in Los Angeles. It airs Thursdays at 10 p.m. when Chicago Fire wraps for the season.
Also bringing back a familiar face is Wisdom of the Crowd, which stars Entourage's Jeremy Piven as a tech innovator who creates a new app to try and solve the mystery around his daughter's murder. It airs Sunday night at 8 p.m.
The Brave is another military drama, this one follows a team of analysts and special ops forces that work together to solve missions in some of the world's most dangerous places. It airs Mondays at 10 p.m.
Last on the new drama acquisition list is Law & Order True Crime: The Menendez Murders, which stars Emmy-award winning Edie Falco as lead attorney Leslie Abramson, in a dramatization of the notorious murder case. The show will air Tuesdays at 10 p.m.
Leading the slate of acquired Global TV comedies is the return of Will & Grace, coming Thursday nights at 9 p.m. The show features all four original stars (Eric McCormack, Debra Messing, Sean Hayes and Megan Mullally), as well as executive producers Max Mutchnick, David Kohan and director James Burrows.
The reboot will lead into season two of Great News at 9:30 p.m. on Tuesdays, starring Nicole Richie and Andrea Martin (Working the Engels) in a newsroom-based comedy about a mother that decides to return to work and starts a job as an intern at her daughter's news show.
New comedy 9JKL stars Mark Feuerstein as a newly single actor that returns home to live in an apartment with his parents on one side and his brother, sister-in-law and their new baby on the other. That airs Monday night at 8:30 p.m.
Midseason acquisitions on Global include Instinct, which stars Alan Cumming as a author, university professor and former CIA operative who is lured back into his old life when the NYPD needs his help to stop a serial killer.
On the lighter side for midseason is new comedy Superior Donuts, about the owner of a small doughnut shop located in a quickly gentrifying Chicago neighbourhood.