Four trends from the 2017 upfronts
Brand safety was the key buzzword of the week, with broadcasters across the board saying pricing is expected to go up this year.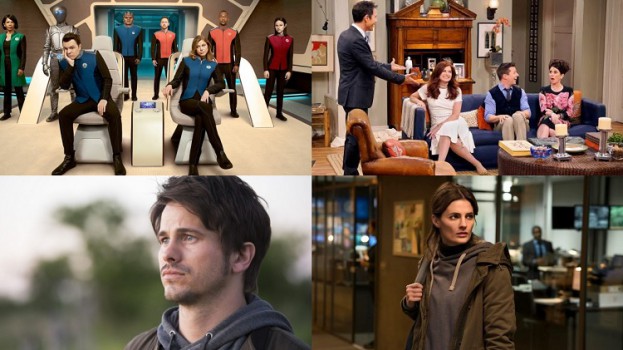 By: Bree Rody-Mantha and Val Maloney
Now that the hangovers have subsided and the stars have gone home, it's time to dig into the top trends from this year's Canadian upfronts. While recent years have seen the broadcasters each going heavy on a specialized message for its channels, executives were all singing from the same power of TV songbook this year.
The message across the upfronts was loud and clear: TV is still the most powerful medium – the one where brand dollars can be most trusted. Media in Canada asked a handful of executives to offer their views on how broadcasters are using their medium to their greatest advantage.
(Brand) safe is the new sexy
The message across the board last week was that TV is trustworthy – offering brand safety and guaranteed premium content. Such comments were a clear shot at digital media companies like Facebook and YouTube, which have come under fire in recent months for ads appearing next to things like hate speech.
"Many marketers have been burned and are now starting to realize that the majority of content that's delivered in these platforms is user generated and they really don't have the controls that they say they do," said Alan Dark, SVP of media sales at Rogers Media. "I think there was a push for data and as the broadcast industry amps up its data services they can easily shift that money back. And they know that the content we serve is safe."
In another poke at the digital players, during Wednesday's Bell Media upfront, Perry MacDonald, SVP local TV and national sales at the broadcaster, boasted that real humans watch commercials on TV channels, not bots.
Upfront pricing going up
Brand safety and the general rise of marketers returning spend to TV has led to an expectation of price increases this upfront season from Canadian broadcasters.
Dark said that Rogers Media is expecting upfront cost increases of between 5% and 10% depending on the content and programming. MacDonald wouldn't give exact percentages, but said based on the demand they're seeing in the market they anticipate an increase in prices this upfront.
Speaking more generally about the Canadian market, Greg McLelland, CRO, Corus Entertainment, said that ratings points will be flat to up and that CPMs will grow in the mid-single digits.
TV as the antidote
The increasingly uncertain global political climate has had an effect on how some broadcasters programmed their upcoming schedules.
For example, Corus chose to lean into that uncertainty, rolling out an action-packed slate on both conventional and specialty with military-themed programs like The Brave and SEAL Team, and the renewal of self-described "morally grey" Canadian original, Mary Kills People. VP and COO Barb Williams said that as the world becomes more complicated to navigate, audiences are looking for big action heroes within the pop culture zeitgeist.
But CTV chose a different solution: it's going for levity and warmth, not explosions and gunpowder.
"I think we have enough of that on the six o'clock news," said Mike Cosentino, SVP, content and programming, Bell Media.
New shows it's introducing to combat the blues include The Big Bang Theory prequel Young Sheldon, medical drama The Good Doctor and the coming-of-age comedy Me, Myself & I.
Saving the serialized for specialty
While the conventional networks had a small number of serialized pick-ups and renewals, for the most part, the major networks stuck to tested and true episodic and procedural formats (with a few notable exceptions, like the new anthology edition of Law & Order).
Series tied to longer-running story arcs like CTV's Secrets and Lies and City's Shots Fired were left off the schedules for the next season, while new series like family comedy 9KJL and police drama S.W.A.T. will give viewers more of a lean-back experience. The numbers this past year indicate that this might be a smart choice — episodic series like NCIS, The Big Bang Theory and Bull frequently topped the Numeris charts.
Williams observed that over the last few years, conventional networks have suffered from wanting to emulate specialty networks after witnessing the success of complex, serialized shows like Breaking Bad and Homeland. Now, she said, she sees the conventional networks deciding to play to their strengths instead and go for the mass reach. "[Conventional] is really big, really broad, really populist. It's easy-in, easy-out, where the procedural format can really win the day, both in drama and in comedy… NCIS may not be what people talk about at dinner parties, but they watch it."
There will be some hit serialized formats returning, like the tearjerker drama This is Us and the aforementioned increasingly intense Mary Kills People, but for the most parts, longform storytelling — like the Jessica Biel-fronted Sinner (a mysterious drama series about a woman who, in an unexplained fit of rage, stabs and kills a random stranger) and science fiction anthology Electric Dreams (based on the short stories of Philip K. Dick) — have found a home on specialty networks.