Today's Parent targets time-starved families with new app
Editor Sasha Emmons says the app will help Today's Parent reach a wider North American audience, which has become a priority for the magazine brand in the borderless digital world.
Rogers Media has launched the Today's Parent Mealtime app, a free, ad-supported app that will provide recipes, meal plans and other food resources targeted at busy families.
The app, which is available on iOS and Android, will contain both text-based and video-based recipes, as well as add-ons such as grocery list generators. On top of traditional in-app display advertising, content integrations will be available.
Digital has become the primary platform for Today's Parent since its print schedule was reduced to bi-monthly at the start of 2017, said editor-in-chief Sasha Emmons, and that means finding more new ways to reach readers.
Readership for Today's Parent on digital is up 171% year-over-year, although Rogers Media did not provide stats on whether or not digital ad sales had gone up accordingly for the brand at press time.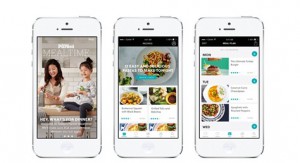 Emmons said developing the Mealtime app was partially based on consumer insights. She said four out of five Canadian moms admit that they don't plan as much as they'd like and had only five "go-to" family meals in their repertoire. She also pointed to search trends that showed that every month, 25,000 unique Canadian users search for "dinner ideas" online.
She added that buzz around food and recipe content online — with brands like Buzzfeed's Tasty and Tasty Junior pulling in big views — have indicated that viewers have an appetite for this kind of content, although she added that the planning aspect of Today's Parent's app would give it an edge in the family demo.
The app, she said, will also help Today's Parent reach a wider U.S. audience – one of her team's goals since the magazine has become digital-first. While there have not yet been any concentrated marketing efforts south of the border, she said the magazine has been more open to basing content off of U.S. studies and using U.S. experts in articles. "Of course we want to serve a Canadian market, but over the past year we've been transitioning to being a distinctly North American brand."