Why D'Italiano is singing a more digital tune
The bread brand has launched a live stream operatic ad, the latest in a series of promotions since becoming more digitally focused last fall.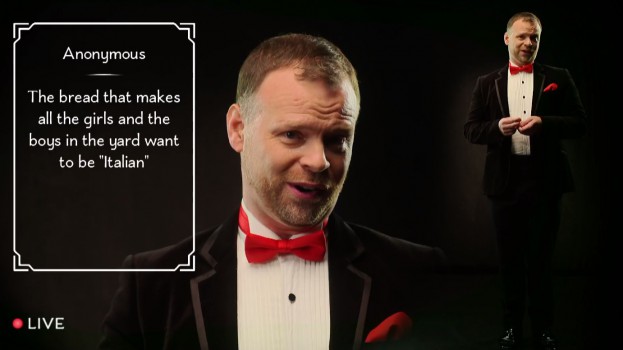 D'Italiano rolled out its "Live Large" campaign in late 2016, its first new campaign in three years. With that came a repositioning of the brand's image, as well as a shift in spend. While the bread brand used to focus primarily on television, director of marketing Nicole Pekerman increased its digital, mobile and social spend by 50%.
The goal with this shift was to hone in on a core demographic of adults 25 to 40, veering toward female, who are unapologetic foodies but also heavy mobile and social media consumers, she said.
In its latest effort to broadcast the new "Live Large" brand message, D'Italiano has taken over the YouTube desktop homepage with a live stream that will add a little bit of music for visitors.
Throughout the day on June 14, users on the YouTube homepage will see a live stream broadcast of two Italian tenors next to the D'Italiano logo. Those who turn on their sound will hear that the two aren't just singing about bread, they're improvising operatic tunes inspired by users' Tweets. Viewers can Tweet at the tenors directly from the ad, and if the Tweets are approved as appropriate, they will be made into the live song.
With the focus on young and on-the-go customers, Pekerman said it was crucial to concentrate on media that "is there for them wherever they go," rather than television, which she said is no longer as high-consumption for their key demo.
Prior to the re-staging of the brand last October, Pekerman said D'Italiano's Canadian market share was on the decline. Year-to-date, she said, market share has risen 7%, although she would not disclose its current market share.
The YouTube masthead takeover will be promoted through boosted social media, targeted at the 25 to 40 demo. D'Italiano worked with Dentsu on the media buy, Union on creative and Edelman on PR. This leg of the campaign will also include 15-second pre-roll and 6-second bumper spots with the "Live Large" brand messaging. Pekerman said the estimates for the takeover alone is around 24 million media impressions.