Metroland Media unveils web rebrand
The site is now optimized for mobile with a focus on story pages as the "new homepage" of local news sites.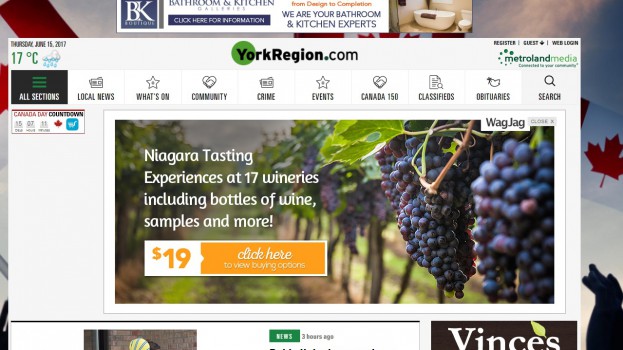 Metroland Media has rolled out a rebrand of all 39 of its local news websites, representing the largest rebrand project in the company's history. The redesign was created with mobile in mind and contain a new unified look across all but two of Metroland's community sites (The Hamilton Spectator and the Waterloo Region Record's website will contain city-specific branding while the others will contain the same Metroland branding).
The story pages and homepage are now more vertically focused to reflect the mobile scrolling experience. Pam Laycock, SVP of strategy and communication at Metroland, told MiC more than 50% of Metroland's digital traffic is mobile, which signaled a need to shift its online experience.
The redesign was piloted in the Guelph market. Following a testing period, the newly redesigned sites rolled out gradually, starting with Metroland's smallest markets in March before applying the updates to the largest markets. The final site to relaunch was the Hamilton Spectator earlier this week.
Laycock said the sites will also contain new ad display ad units, especially on mobile, and have now moved to an adaptive/responsive ad model (units that adjust automatically depending on browser and window orientation). The new units include options that make page takeovers easier.
She said particular attention was paid to story pages, stating that for many, story pages are more of an important destination than the homepage.
"We know that two-thirds of our mobile traffic comes to stories from somewhere else," she said, referring to clicks from social media, aggregators and search engines. "As they come to the site, we  need to make sure that navigation and suggested stories are accessible from the story pages, so we added more within those pages."
The site layouts are proving to be popular, said Laycock, as sites that have had the new design for some time are tracking an average 20% increase in the number of site sessions.
According to the last quarterly report for Torstar, digital advertising revenues rose for Metroland Media Group's community news website, however this was offset by an decrease of revenue (8.3% year-over-year) in its owned sites Save.ca and WagJag. Overall, Metroland sees 19 million digital views per month across its properties (mobile and desktop). Laycock said this total has risen year-over-year, but she would not say by how much.