Cannes 2017: Let there be Oath
Hot off the heels of the AOL and Yahoo merger this month, CEO Tim Armstrong introduces the new company with some details on what's to come.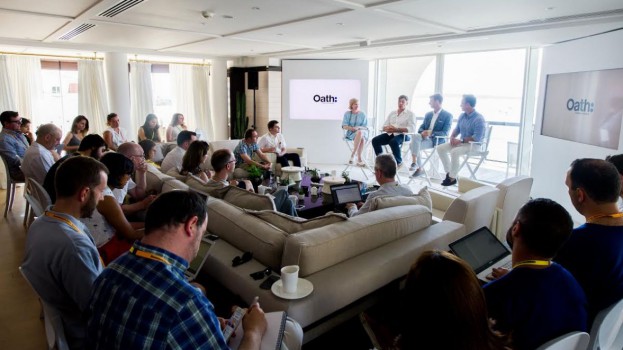 After nine months of prep, Verizon gave birth to Oath, with it's very first sip-and-see party taking place in Cannes, where the world's advertising community has congregated for the Cannes Lions International Festival of Creativity.
Oath's parents, Yahoo and AOL, recently came together to form the new subsidiary comprised of more than 50 technology and media brands after the conglomerate telecom purchased the former co. for $4.5 billion this month.
And while it's CEO Tim Armstrong told press at an intimate sit-down that the the umbrella media company is meant to be an "invisible" brand behind a suite of super brands, it's clearly basking in the limelight for its debut, cloaking parts of the festival with branding and hosting flashy Stevie Nicks-attending events in its honour.
At the press event, Armstrong likened the size of the new Fortune 350 company to a Netflix or Salesforce, with a presence in 40 countries (and aggressive plans to expand further east) and a conservative staff count of about 1,000, while loosely introducing a new strategy to get the company to between $10 and $20 billion in revenue (the top end of that being an "aspirational" goal, admitted Armstrong) and two billion consumers by year 2020.
Armstrong was also joined by Oath heads CMO Allie Kline, global sales and customer operations John DeVine, and president Tim Mahlman.
Here are two items of note that came out of Monday's official introduction:
Its 50-plus brands will (mostly) play nice
As with any merger, there will be some tidying, said Kline. Consolidation of media assets are planned to take place, however those efforts will be limited. AOL and Yahoo, according to the execs, rarely competed before the marriage, with the former bringing performance-based media brands to the table while the latter brings ad tech with first party data to complement. "They went after advertisers from a very different standpoint. There really isn't much overlap and duplication," said Mahlman.
The plan is to take the rich audiences built by AOL and combine them with the tech from Yahoo to build a complementary demand, supply and video stack. It's already in the midst of this, with Armstrong pointing to an upcoming live broadcast of an NFL game in England this Sept., with all three of those services being used to leverage the brand for a global audience. Mahlman also used Yahoo's Flurry Analytics and AOL's Millennial Media as two existing assets that will blend together to create a single systems toolkit.
Mobile is what's now, linear TV is what's next
Verizon has data and lots of it. Data sets from the teleco's millions of wireless mobile customers, combined with Oath's media properties, give it a unique opportunity for audience targeting. With that in mind, the company has set out a new agenda, one with a platform focus and the aim to "build consumer brands, mostly through mobile," said Armstrong.
The next area of focus for growth will be TV programming, specifically with a focus on AR and VR, with the company recently purchasing studio Ryot Films to help create virtual reality content. The telecom company is already a large distributor of linear television feeds to the internet from a "piping" standpoint (300 million customers stream content to their mobile phones through Verizon), so it's a natural evolution for the company to invest deeper into the space, he added.