Digital gains can't make up for print drops: Vividata
The Globe and Mail once again topped Vividata's rankings for overall reach, but most newspapers saw declines in print audience from last quarter.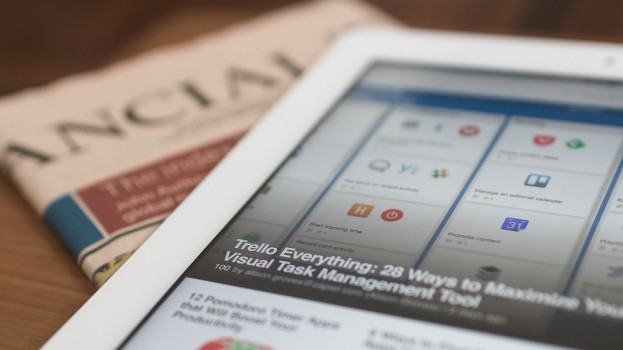 The latest quarterly report from research firm Vividata shows little change in its listing of the country's top magazines and newspapers in terms of reach— but it did show declines for many publications between Q4 2016 and Q1 2017.
For national newspapers, The Globe and Mail once again topped the list for overall reach, with a footprint of 2.22 million readers per average weekday issue (1.1 million in print, 1.42 million in digital). Coming in second was The National Post, with an overall footprint of 1.51 million readers (793,000 on digital, 883,000 on print).
While The Globe and The National Post remained mostly steady from last quarter ( The Globe pulled in 2.23 million readers for average weekday issues and the Post had 1.52 million), many of the country's publications saw losses in print that drove down their overall reach, despite modest to significant gains in digital.
Those trending downwards for the report included titles like the Toronto Star (which grew its digital readership to 897,000 from 889,000 but still dropped to 1.87 million in overall print and digital reach from 1.91 million) and Le Journal de Montréal (digital up to 568,000 from 559,000, but overall foot print at 1.26 million down from 1.36 million).

For newspapers, the biggest digital gain came from La Presse (which recently announced it will become a 100% digital publication at the end of 2017), which saw an increase of nearly 50,000 in its average weekday audience. However, for most publications, the gains could not offset a drop in average audiences on print.
Those surveyed for the latest Vividata report were asked if they looked at a print issue or digital content from a newspaper "yesterday." For print magazines, they were asked if they read the last issue of a specific magazine (which could range from a daily magazine to a twice-yearly magazine), while they were asked if they accessed digital content for the respective magazines within the last 30 days.
Although print readership is largely down for publications, Vividata found that of the millennials that are reading newspapers and magazines, 89% still read print regularly, a number that has remained unchanged since last quarter.
Boomers are also receptive to digital — more than half (59%) of Canadians born 1946 to 1965 reported reading newspapers or magazines on digital devices. This total holds strong from 58% in Q4 2016.
Different generations aren't just feeling the effects of the digital revolution; they're also riding the mobile wave differently. Of digital readers, 83% of millennials read on smartphones, but that drops to under half (44%) of boomers.
The two generations are also distinguished from one another in terms of how they find their content. Most millennials (63%) opt to access digital newspapers through social media links, while it is still more common for boomers to go directly to the paper's website (54% say they do this most often).
Here are the top publications in the country for overall readership footprint, according to Vividata.
Magazines (Canadians 12 and up)
English magazines: Print and digital reach, average issue
Reader's Digest: 4.48 million readers
Cineplex Magazine: 4.32 million readers
Live Better: 3.98 million readers
Canadian Living: 3.9 million readers
Canadian Geographic: 3.63 million readers
English magazines: Print reach, average issue
Reader's Digest: 4.08 million readers
Cineplex Magazine: 3.62 million readers
Live Better: 3.6 million readers
Canadian Living: 3.41 million readers
Canadian Geographic: 3.07 million readers
French magazines: Print and digital reach, average issue
Ricardo Magazine: 1.77 million readers
CAA Quebec Touring (French and English): 1.45 million readers
Coup de Pouce: 1.41 million readers
Vivre Mieux: 1.01 million readers
Bel Age Magazine: 946,000 readers
French magazines: Print reach, average issue
CAA Quebec Touring (French and English): 1.32 million readers
Coup de Pouce: 1.26 million readers
Ricardo Magazine: 1.25 million readers
Bel Age Magazine: 899,000 readers
Vivre Mieux: 859,000 readers
English magazines: Digital reach, monthly
Sportsnet Magazine: 1.41 million readers
Maclean's: 1.35 million readers
People: 1.19 million readers
Cineplex Magazine: 1.04 million readers
The Hockey News: 750,000 readers
French magazines: Digital reach, monthly
Ricardo Magazine: 653,000 readers
Les Affaires/Les Affaires Plus: 356,000 readers
L'Actualité: 322,000 readers
Coup de Pouce: 225,000 readers
Le Magazine Cineplex: 168,000
Newspapers (Canadians 18 and up)
National newspapers: Print and digital reach, average weekday issue
The Globe and Mail: 2.22 million readers
National Post: 1.51 million readers
National newspapers: Print reach, average weekday issue
The Globe and Mail: 1.1 million readers
National Post: 793,000 readers
National newspapers: Digital reach, average weekday issue
The Globe and Mail: 1.42 million readers
National Post: 883,000 readers
Ontario newspapers: Print and digital reach, average weekday issue
Toronto Star: 1.87 million readers
The Toronto Sun: 843,000 readers
Ontario newspapers: Print reach, average weekday issue

Toronto Star: 1.19 million readers
The Toronto Sun: 619,000 readers
Ontario newspapers: Digital reach, average weekday issue
Toronto Star: 897,000 readers
The Toronto Sun: 344,000 readers
Quebec newspapers: Print and digital reach, average weekday issue
Le Journal de Montréal: 1.26 million readers
Le Journal de Québec: 714,000 readers
Le Devoir: 318,000 readers (tie)
Le Soleil: 318,000 readers (tie)
Quebec newspapers: Print reach, average weekday issue
Le Journal de Montréal: 900,000 readers
Le Journal de Québec: 528,000 readers
Le Devoir: 138,000 readers
Le Soleil: 2172,000 readers
Quebec newspapers: Digital reach, average weekday issue
La Presse: 1.19 million readers
Le Journal de Montréal: 568,000 readers
Le Journal de Québec: 321,000 readers
Le Devoir: 236,000 readers
Le Soleil: 160,000 readers
Toronto newspapers: Print and digital reach, average weekday issue
The Toronto Star: 1.23 million readers
Metro: 733,000 readers
The Globe and Mail: 695,000 readers
The Toronto Sun: 586,000 readers
24 Hours: 502,000 readers
Toronto newspapers: Print reach, average weekday issue
Toronto Star: 824,000 readers
Metro: 660,000 readers
The Toronto Sun: 456,000 readers
24 Hours: 448,000 readers
The Globe and Mail: 415,000 readers
Toronto newspapers: Digital reach, average weekday issue
Toronto Star: 579,000 readers
The Globe and Mail: 406,000 readers
National Post: 2516,000 readers
The Toronto Sun: 232,000 readers
Metro: 161,000 readers
Montreal newspapers: Print and digital reach, average weekday issue
Le Journal de Montréal: 701,000 readers
Métro: 477,000 readers
24 Heures: 394,000 readers
Montréal Gazette: 251,000 readers
Le Devoir: 183,000 readers
Montreal newspapers: Print reach, average weekday issue
Le Journal de Montréal: 514,000 readers
Métro: 441,000 readers
24 Heures: 363,000 readers
Montréal Gazette: 164,000 readers
Le Devoir: 87,000 readers
Montreal newspapers: Digital reach, average weekday issue
La Presse: 630,000 readers
Le Journal de Montréal: 304,000 readers
Montréal Gazette: 131,000 readers
Le Devoir: 128,000 readers
Métro: 91,000 readers
Vancouver newspapers: Print and digital reach, average weekday issue
The Vancouver Sun: 424,000 readers
The Province: 404,000 readers
Metro: 335,000 readers
24 Hours: 294,000 readers
The Globe and Mail: 216,000 readers
Vancouver newspapers: Print reach, average weekday issue
The Province: 319,000 readers
Metro: 316,000 readers
The Vancouver Sun: 305,000 readers
24 Hours: 279,000 readers
The Globe and Mail: 93,000 readers
Vancouver newspapers: Digital reach, average weekday issue
The Vancouver Sun: 176,000 readers
The Globe and Mail: 159,000 readers
The Province: 137,000 readers
National Post: 88,000 readers
Metro: 56,000 readers
Photo by Matthew Guay, courtesy of Unsplash