NYT focusing on subscribers, not ads, in Canadian push
The media co's president of international, Stephen Dunbar-Johnson, on its success in Canada to date.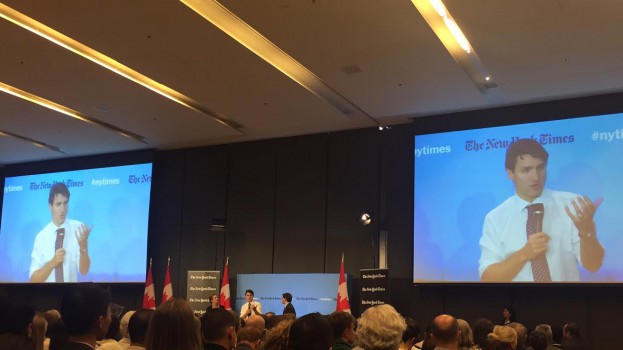 The New York Times is getting more visible in its push into the Canadian market. It sold out an event in Toronto last week where its Toronto bureau chief Catherine Porter and chief White House correspondent Peter Baker interviewed Justin Trudeau about Canada/U.S. trade relations. The event is the latest manifestation of what has been an eighteen-month investment into expanding the Times' presence in English-speaking international markets, including Canada, Australia and the U.K. That has included hiring in each market, hosting events like the Trudeau interview and launching a country-specific weekly newsletter.
Stephen Dunbar-Johnson, president of international, The New York Times Company, said the goal of the international push isn't to flood the market or compete with local players but to grow the Times' digital audience and provide a different perspective.
Canada has become the largest market for the Times outside of the U.S., bringing in 6.5 million unique visitors in April and growing year-over-year digital subscriptions in the market by 98%, said Dunbar-Johnson. (He said the average Times reader tends to be more likely male than female, which it is working on evening out, and is also "curious," highly educated, of high net worth and a frequent traveler.)
Of course, that growth doesn't just come down to investment. The media co has seen a "Trump bump," with the current news cycle increasing subscriptions outside of the U.S. faster than within, said Dunbar-Johnson.
And it is subscribers more than ad revenue that the paper is looking for internationally right now, he said. And that's because one generally follows the other.
"Ad revenue is important, but it's not driving our international strategy," he said. "It's a collateral benefit. In today's landscape of digital advertising, with the commoditization that's going on, we believe that as we grow our digital readership, our paying digital audience will, in turn, attract advertisers that are looking for strong environments to advertise around. In the past, the lifeblood of the plan has been advertising, which isn't a sure bet to sustain our journalism going forward."
The New York Times CEO Mark Thompson last week called the current state of digital advertising a mess and is focused too much on buying audiences rather than the content.
"Advertisers should know where their brand is sitting," said Dunbar-Johnson, agreeing with his CEO's comments. "If we can demonstrate that we have an audience that's highly engaged, is paying and trust the content, that says a lot."