Spotted! Canadian Tire modernizes its money
The brand is issuing a limited edition updated $0.10 bill, along with a big paid media campaign to mark Canada 150.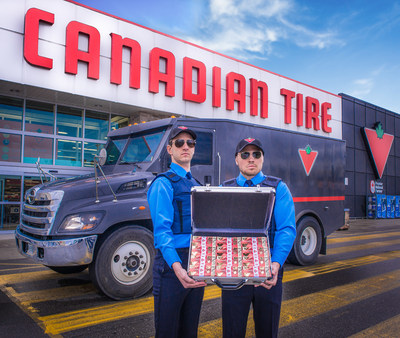 There's a new bill in circulation for Canadians. No, not the ones featuring Wilfrid Laurier, Robert Borden or the Queen — the ones featuring Sandy McTire.
Perhaps McTire isn't a recognizable name, but the fictional character's visage is known to many around the country — he's the face of Canadian Tire, and one of his bills (the 10 cent bill) is getting a limited edition makeover.
The bills — two million of which will be given out at stores nationwide starting Friday — are adorned with gold maple leaves with a red and white colour scheme (although McTire's face remains on the side of the notes).
While the bills officially enter into circulation on June 30, Canadian Tire debuted the new pieces with a giveaway in midtown Toronto, inviting passers-by into a tube of flying bills to collect as many as they could.
Most Canadian brands have joined in on the Canada 150 celebrations as part of an effort to capitalize on a national celebration. But Eva Salem, VP of marketing for Canadian Tire Retail, said the brand's ubiquity for Canadians created "a lot of pressure" from a marketing standpoint.
"There's definitely an expectation from Canadian consumers that we do something around Canada Day," she said.
To let Canadians know about the limited edition money, Canadian Tire has supported the launch with an extensive paid media campaign, with media buying by Touché. The campaign will see the return of its "Lights" TV creative and deliver another round of its "Red Door" experiential display (which connected video displays in different cities via public space installations).
The Red Door stunt will occur during Canada Day, and footage will be incorporated into digital videos, which will also be promoted over a five-week period along with the "Lights" spot.
Salem added that there was no specific demographic for this campaign — which she thinks is the smart thing to do for Canada 150. "In many ways, that keeps with our brand," she said. "That obviously creates pressure to create something that resonates with all Canadians, but that's what people have come to expect from us."