Spotted! A billboard that sniffs spliffs
To mark Canada 150, as well as one year until the nationwide legalization of cannabis, smoking accessory store Prohibition used an interactive billboard to trigger Tweets.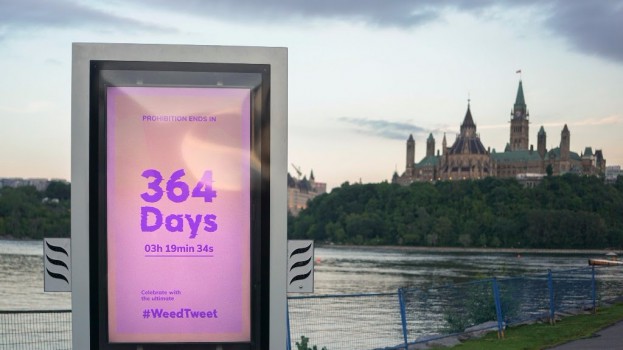 July 1 didn't just mark Canada's 150th birthday — it also was the one year mark until the nationwide legalization of cannabis.
Smoking accessory retailer Prohibition took the opportunity to have fun with the milestone. The brand placed an interactive billboard by the riverside in Gatineau during Ottawa's Canada 150 celebrations that used sensory technology to detect nearby marijuana smoke. When it sensed the smoke, it sent a tweet to an "influential Canadian" (with pre-selected accounts including Prime Minister Justin Trudeau, actor/marijuana enthusiast Seth Rogen and media brand Narcity).
The temporary installation was created with media and creative from Bleublancrouge (and was timed to go live at 4:20 p.m., for obvious reasons). The screen featured a message about the countdown to legalization, along with branding for Prohibition. It also invited passers-by to celebrate by blowing a puff of smoke and sending a "#WeedTweet."
The technology for the detection was "actually quite simple," said Marie-Eve Best, associate creative director with Bleublancrouge. The side attachments used basic smoke detectors to activate the tweets, which had different celebratory messages (such as "The end of prohibition is one year away. Way to go, Canada!") and included a tag to various Canadian pop culture figures. Best said they were chosen because of their popularity and how active they are on social media, increasing the potential of a retweet.
The Gatineau location was chosen because of its popularity as a gathering place during July 1 celebrations. "Ottawa is on lockdown," said Best, who added that while the tourists tend to be drawn to Parliament Hill, the brand would speak to more locals in this spot. Being far away from the major security efforts didn't hurt, either.
More than 100 "#WeedTweets" were sent.
Every Tweet also contained a link to Prohibition's ongoing YouTube live video, which contains a one-year countdown clock to the end of prohibition. The activation was a subtle and celebratory, rather than goofy way of building Prohibition's following, said Best. "Marijuana is becoming more and more mainstream, not something people are doing in dark alleyways," she said. "We didn't want something that would speak to 16 and 17-year-olds."
Prohibition doesn't have any paid media plans confirmed for the next year, but Best said it is considering bringing the smoke-sensing billboard back for other prominent events, such as April 20, 2018.