Spotted! Torontonians play Spider-Man for a day
A Union Station activation to promote Sony's new smartphone - and the new superhero film - invites commuters to take a web-slinging selfie.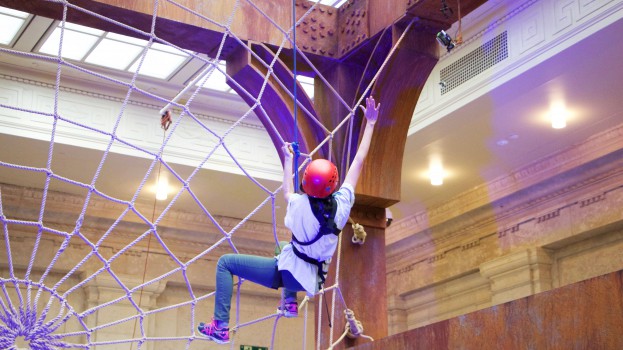 An activation at Toronto's Union Station this week is giving commuters a chance to do whatever a spider can.
On July 5 and 6, those in the station are being given a chance to climb a six-metre "web" made from rope in the middle of the main hall. At the top, a strategically placed Sony smartphone takes their picture.
The activation is mainly from Sony Mobile as part of an effort to promote its new phone, the Xperia XA1 Ultra. One of the main features of the phone is the front-facing (selfie) camera, which clocks in at 13 megapixels (nearly twice as many as the iPhone 7S). Don Mesa, VP of marketing for North America, Sony Mobile Communications, told MiC the goal was to create an activation that centered around extreme selfies, but it decided to incorporate Spider-Man, since the new film Spider-Man: Homecoming (from Sony Pictures) premieres on July 7.
"We knew there would be a lot of traffic, because it's Union Station, but especially this time of year, everyone is out and about," he said. "With it being so close to the premiere, we knew we could tie this into the Spider-Man movie, and really capture a lot of buzz."
In addition to this week's experiential stunt the phone will also be promoted in Canada through paid media, including OOH, digital and social. The Union Station activation itself was also promoted through boosted social, targeting the older millennial crowd (early 30s, which Mesa said is the sweet spot where the movie and phone's target demographic intersects). The media buy was conducted by indie U.S. agency Recess, with experiential by Substance Group and PR by Halo and SCPR Consulting.