Endy uses Union Station to bridge the urban and suburban
With previous campaigns hitting the millennial demo hard, the brand has decided to capitalize on its growing 35-and-up market.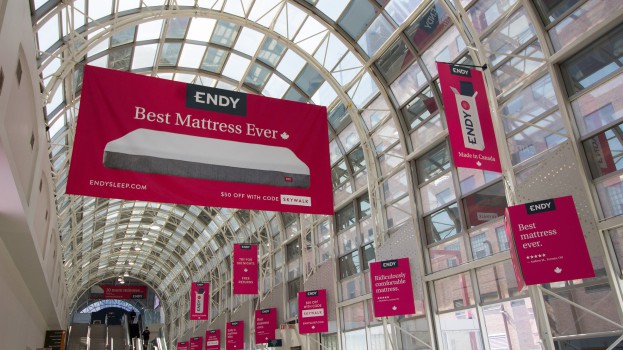 Online mattress retailer Endy is used to targeting people on the move — and its continuing that with a new eight-week Union Station takeover.
Endy, which was founded in 2015, first went to market in Canada with a massive TTC subway advertising blitz last year (which featured short, humorous reviews of the mattresses along with a promo code) in an effort to target young, urban professionals aged 25 to 35. But Aashish Nathwani, director of marketing with Endy, said that in the two years since its launch, the company has been surprisingly popular with Gen X-ers and people outside of major urban areas, as well as city-dwelling millennials.
So, Nathwani said, the company has taken its messaging out of the subway and into the train station, using Union Station as a bridge between the urban and the suburban. Approximately 250,000 people, many of whom are suburban commuters, pass through Union on a daily basis.
The campaign includes Endy OOH advertisements in the entrance to Union's Great Hall, inside the hall itself, near the entrance to the UP Express train and throughout the station's Skywalk, a half-kilometre tunnel stretching between Union Station and the CN Tower/Rogers Centre. The ads feature pictures of the mattresses with a discount code, with some featuring small snippets of real online reviews. While the subway ads featured more quirky compliments for the mattress ("20 lb Russian cat loves it too") these reviews are more to-the-point, with "Best mattress ever" and "Ridiculously comfortable mattress," being among the taglines.
Nathwani said the set-up, which is also designed to target tourists, is largely about building brand awareness on as mass of a scale as possible while speaking to a more diverse audience geographically. He said this campaign (which features video walls, hanging ceiling pennants, wall panels, digital monitors, posters and floor vinyls) isn't Endy's biggest media spend to date — but it comes close (although he wouldn't disclose details). All media buying and creative work was done in-house.
With the TTC subway buy, Nathwani said the brand was focused on the "young urbanite demographic that highly values convenience." The online-only mattress industry has grown over the past several years, with brands such as Casper, Leesa and Tuft & Needle rising in the market. And millennials are indeed big furniture shoppers — according to U.S. trade publication Furniture Today's Consumer Views Buying Trends report released earlier this spring, 29% of (U.S.) millennials plan to buy bedding this year, making it one of the hottest ticket items in the furniture industry.

Nathwani said the TTC buy did correlate with a jump in sales, and that the promotional codes listed on the ads were some of the most frequently used discount offers from the last year. But he said as the brand has grown in sales and in market share (he wouldn't share how much they've grown by, but said they're both trending upward), sales have indicated that those young urbanites aren't the only people engaging with Endy products.
"As we've grown, we're seeing that we have a much broader appeal [than millennials]," said Nathwani. "For example, part of our brand story is that we ship coast-to-coast, and we're seeing that a lot of the deliveries are going to people outside the major urban areas. And we're seeing that it's really more of a 25 to 45 demo than 25 to 35, so we're trying to go a bit broader."
(Those sales are also supported by Furniture Today's report, which indicates that Gen X-ers aren't far behind millennials in the category; 26% plan to purchase bedding this year).
The Union takeover is supported by direct mail and digital display advertising, search and social, which also targeted at 25 to 45 demographic.