Corus eyes VR with Vikings app launch
The show's new VR experience will be available through mobile VR, which is currently the most popular delivery mechanism for the immersive medium.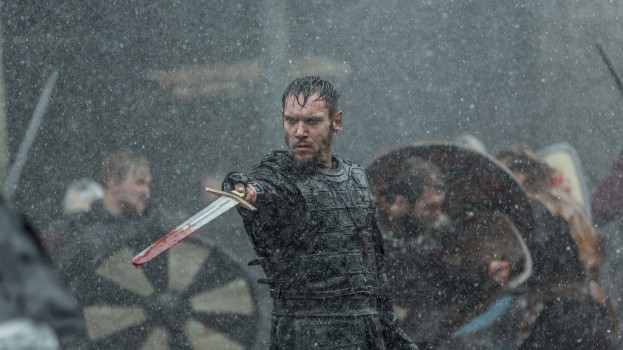 Corus Entertainment is tying its first VR app with sponsorship availability to its hit show Vikings.
The Corus original, which airs on History, is returning to the screen for its fifth season on November 29 at 9 p.m. The VR app will launch at the end of August in both the iTunes App Store and Google Play.
The new immersive VR experience, which will be free for all Canadians, is launching in conjunction with Fan Expo Canada (which takes place in Toronto from Aug. 31 to Sept. 3). It will feature VR-exclusive, in-universe scenes from Vikings, including an argument about war strategy between Ragnar's sons (Alexander Ludwig, Jordan Patrick Smith, David Lindstron, Marco Islo and Alex Hogh), a prophecy from the mystical Seer (John Kavanagh) and a vow of vengeance by Bishop Heahmund (Jonathan Rhys Myers, pictured, who joins the cast in season five). Behind-the-scenes footage will also be added.
A rep for Corus told MiC that the aim is to both capitalize on Vikings' existing and highly loyal fan base (which is spread across adults 18 to 49 and 25 to 54), since "those fans seek the additional content that make them feel a part of the show," and to reach out to potential new fans within that core demo. The app will be promoted across Corus' TV and digital properties as part of a direct tie-in to the promotional campaign for the new season of Vikings. On top of the cross-promotion and a booth at Fan Expo, an additional 15,000 Google Cardboard VR viewers will be distributed to consumers through various promotional channels and event activations.
Corus has already seen success with Vikings when it comes to immersive content. Last year, Corus launched an interactive digital site, Vikings: A World Revealed, which provided virtual tours of some of the story locations and included behind-the-scenes videos. The site (which did not include advertising or sponsorship) saw a combined reach of 31 million views across all platforms, according to numbers from Corus. Daniel Eves, SVP of specialty networks at Corus, said in a statement that the VR app is an effort to give fans more of that style of content.
Despite the buzz around VR, studies have shown that mainstream adoption of VR headsets has been slower than expected. However, that hasn't stopped Canadian producers from creating VR experiences tied to their shows. Another Canadian original, The Amazing Race Canada, launched a companion VR app for the show's recent premiere, showcasing some of the Race's key locations across Canada.
Both the apps for Vikings and The Amazing Race Canada  are being made available through mobile VR, which can be viewed on a phone, without the need for a standalone VR kit. Headsets such as the Google Cardboard and Samsung Gear, which incorporate mobile phones instead of full systems and are significantly cheaper, are indeed the most popular sets in Canada (according to a study released by the MTM in May).

Vikings is one of the biggest gets on Corus's specialty networks. The Canadian/Irish co-production is one of History's biggest draws, with the fourth season averaging 437,100 viewers in the adult 25 to 54 demo and 859,200 for 2+.
The app was developed and commissioned by Corus in association with Vikings producers Take 5 Productions, and Toronto and Vancouver-based VR agency Thinkingbox.