Yellow Pages CEO exits, CFO named interim lead
Ken Taylor is taking over the post as the company announces it expects to fall short of its digital revenue goals for 2017.
Yellow Pages has announced the departure of its president and CEO Julien Billot (pictured right).
CFO Ken Taylor has been named interim president and CEO and a search is underway for a permanent successor, according to a release. Taylor joined Yellow Pages in March, previously holding CFO roles at companies including the Ottawa Senators, BTI Systems and March Networks.
Billot had been president and CEO since 2014, leading the business in its digital transformation. According to a statement from Robert MacLellan, chairman of the board of directors at Yellow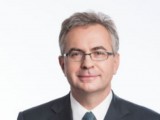 Pages, the business now generates about 70% of its revenue from digital.
MacLellan also said that the company believes it can "do more to deliver on its potential by placing greater emphasis on operational performance, execution and shareholder returns."
Yellow Pages is expected to hit its 2017 total revenue guidance targets that were first announced during the company's Q1 conference call, said MacLellan. But slow growth through the first half of the year means the company no longer expects to hit its 4% growth goals for digital revenue.
That same slow digital growth led the company to announce a 24-month plan that will focus on a consumer offering that is "content-centric" rather than "product-centric" for small and medium-sized enterprises, on its Q1 investor call. Those plans include acting as more of a content hub for SMEs, in a bid to help companies reach consumers in the increasingly fragmented digital market.
Yellow Pages will report its Q2 results on Aug. 10.